Kirby: Planet Robobot – a few more Robobot Armor details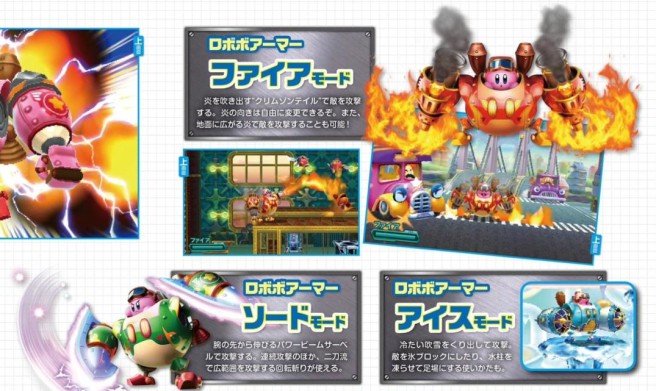 This week's issue of Famitsu has a few on Kirby: Planet Robobot. It's rehash in many ways, but it also contains a few additional details – mainly about the different Robobot Armor modes.
We already heard about three of these modes extensively: Beam Mode, Fire Mode, and Sword Mode. More information about these three are now available, as well as two others that we've only seen a little bit: Ice Mode and Parasol Mode.
Here's the rundown:
– Beam Mode: shoots electric balls which become bigger if the energy is charged. The Bouncer Beam attacks enemies while it's bouncing.
– Fire Mode: Attacks enemies with "Crimson Tail" which spews fire. You can freely change the direction of the fire. You can also attack enemies with fire that spreads on ground.
– Sword Mode: Attacks with Power Beam Sabers that extend from arms. Other than a combo attack, it also has a wide-range Spinning Attack with both sabers.
– Ice Mode: Attack with cold blizzards. You can freeze enemies into ice blocks, or freeze water pillars to turn them into platforms that can be stepped on
– Parasol Mode: Its biggest characteristic is the propellers protruding from both shoulders, which can be used to fly or even attack enemies.
Leave a Reply