Mario & Sonic at the Rio 2016 Olympic Games 3DS details – sports, roster, amiibo, modes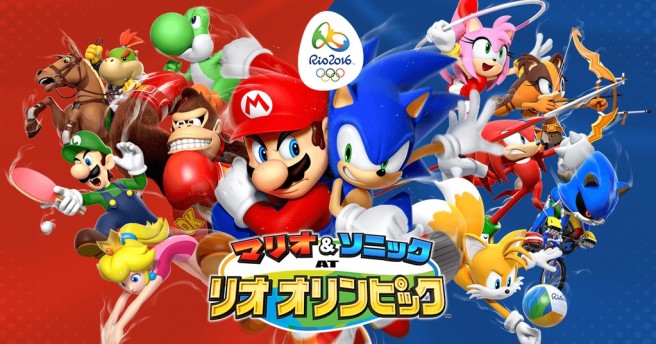 Nintendo opened the official Japanese website for Mario & Sonic at the Rio 2016 Olympic Games on 3DS today. The various pages cover the included sports, character roster, amiibo support, and various modes.
In terms of sports, 14 are included in total for Olympic competition. The lineup includes soccer, golf, 100m dash, 110m hurdle, long jump, javelin throw, 100m freestyle swim, archery, boxing, table tennis, beach volley, equestrian, BMX, and rhythmic gymnastic hoop. There are 14 extra competition events, which are the same sports but with added gimmicks from the Mario & Sonic series. Check out the video below for 13 minutes of gameplay showing the different sports and events.
With multiplayer, Local Play is possible if all players have a copy. Download Play is also available if only one person has a copy. Those who are using Download Play will have more limited selection of characters to choose from. Online leaderboards and StreetPass (see below) are also supported.
A total of 40 characters (not including Miis) are in the game, the most in the series thus far. Mario, Sonic, and Miis are available in all sports. Other characters are only available in certain sports.
Here's the rest of the lineup:
– Luigi: Tennis, Hurdle
– Peach: Golf, Swimming
– Daisy: Soccer, Hoop
– Birdo: Archery
– Bowser: Golf, Boxing
– Bowser Jr: Long Jump, Horse
– Donkey Kong: Boxing, Volley
– Yoshi: Soccer, Dash
– Wario: Javelin, Archery
– Waluigi: Long Jump, BMX
– Diddy Kong: Hurdle
– Dry Bones: BMX
– Ludwig: Tennis
– Nabbit: Dash
– Rosalina: Hoop
– Dry Bowser: Javelin
– Roy: Volley
– Larry: Horse
– Wendy: Swimming
– Tails: Swimming, Volley
– Amy: Swimming, Hoop
– Knuckles: Javelin, Boxing
– Cream: Volley
– Espio: Long Jump
– Vector: Golf, Tennis
– Metal Sonic: Dash, BMX
– Blaze: Horse, Hoop
– Shadow: Soccer, Dash
– Silver: Hurdle, Archery
– Omega: Javelin
– Eggman: Hurdle, Horse
– Eggman Nega: Long Jump
– Wave: BMX
– Sticks: Archery
– Jet: Soccer
– Zazz: Tennis
– Zavvok: Boxing
– Rouge: Golf
Mario & Sonic at the Rio 2016 Olympic Games will contain an original story mode, featuring a rivalry between the Mario and Sonic gyms. Your Mii stars as the main character, and you'll need two choose one of the two gyms to train at. The choice will result in a totally different game progression. Mario's story will have 110m hurdle along with beach volley, and Peach's Training Gym will train your endurance with pole vault. Sonic's story offers 100m dash plus table tennis, and Amy's Training Gym will train your speed with bicycle dash.
As you progress through the story, there will be mysteries in Rio that you need to solve with the cast. Of course the mysteries will differ with each story. Clearing Mario's story will get you a Mario Suit for your Mii, and Sonic Suit is provided for completing Sonic's story. These suits can be powered up by reading amiibo (once per 24 hours). The following figures work with the game:
– Mario (Super Smash Bros. series)
– Sonic (Super Smash Bros. series)
– Dr. Mario (Super Smash Bros. series)
– Mario (Super Mario series)
– Mario – Gold Edition
– Mario Classic Colors (30th Anniversary Mario)
– Mario Modern Colors (30th Anniversary Mario)
There will be over 270 kinds of costumes to use with Miis. Each one can increase stats and/or activate skills. Training in Champions Road will give you Training Points (TP, can be considered this game's EXP). When you gather enough TP, your Mii level up. High-spec costumes can be only worn after you've increased your level considerably. Miis can also equip gear for specific sports (ex: golf clubs for golf, gloves for boxing) which will give further stat enhancements and special perks.
In order to acquire costumes, you'll need to collect Apples which are obtained based on training performances in Champions Road. Costumes can be purchased at the Costume Shop. Similarly, for gear the currency is Melons, which is collected by exploring the city. There is also a Gear Shop available out there.
Finally, Mario & Sonic at the Rio 2016 Olympic Games has a new mode known as Outing Marathon, where using the 3DS' pedometer feature counts a step as one meter and aims for the player to walk the marathon distance of 42.195km. Mid-rewards in this marathon mode also include Apples and Melons. There are also daily Bonus Challenges where you can get extra rewards, such as walking a specified amount of steps within a time limit.
Leave a Reply