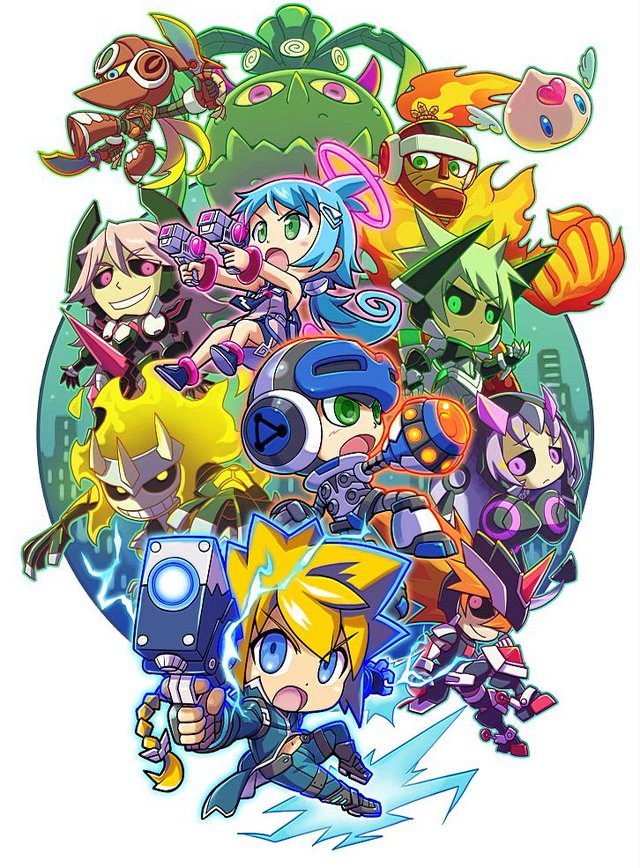 We here at Inti Creates are very happy to announce that Mighty Gunvolt will be receiving a version update and DLC package! The version update will come alongside the release of Mighty Gunvolt as a standalone game on November 28th for $3.99 (USD). The update can be downloaded from the eShop free of charge. The early adoption campaign for Azure Striker Gunvolt which allows you to download Mighty Gunvolt for free will be ending at this time as well, so make sure you pick up Azure Striker Gunvolt by 8:59AM PT on the 28th if you want to receive Mighty Gunvolt for free! A release date for the DLC package is coming very soon, so stay tuned for an update in regards to that. Now, let's have a look at what is coming with the update and DLC!

Version 2.0.0. Update Information

?Stage Select Screen: Pressing the B Button allows you to return to the Title Screen. Selecting stages is easy to do, and now, you will be able to access the upcoming DLC stages right from the main Stage Select Screen.

?All Playable Characters: All characters have new animations for entering and exiting a stage.

?Gunvolt : The amount of time required for his Charged Attack (Lightning Attack) has been shortened a little bit.

?Ekoro: The maximum number of on-screen shots for Ekoro has been increased from 3 to 4. The endurance of enemies she can convert with her Lock-On Shot has also been changed. Additionally, previously non-convertible enemies, like the baddies that hatch from Stratos' eggs, are now convertible.

?All stages: Enemies are re-balanced, including changes to their actions and timing. More hidden items have been added as well.

DLC Information

The new DLC package will cost $2.99, and contains 4 brand new stages featuring 4 different boss characters from the worlds of Azure Striker Gunvolt, Mighty No. 9, and Gal*Gun.

Even though Mighty No. 9 hasn't even been released yet, you get the chance to do battle with Mighty No. 1 and Mighty No. 7!
For DLC character and stage introductions check out the full blog post!
Leave a Reply