New Zelda: Breath of the Wild character details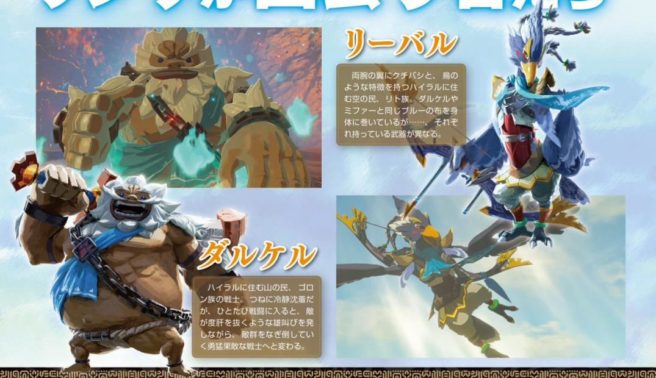 With just a month to go until launch, Famitsu has coverage on The Legend of Zelda: Breath of the Wild. The magazine recaps previously-known information about gameplay, but also shares new details on characters.
As many of you know, voice acting is featured in Zelda: Breath of the Wild. The characters appearing in the game will also be very individualistic. Familiar races in the series like the Zoras and Gorons can also be spotted.
Zelda is the princess of the destroyed Hyrule kingdom. She goes to investigate ancient ruins scattered around the world. Famitsu says she's a wise and curious girl, but also has a deep complexity.
In one image, Zelda is shown raising her right hand to shoot light at a Guardian. This time, Zelda wears clothing that may let her take the most active role she's had in the series so far. Famitsu asks, will she also participate in battles?
Mifa is a Zora girl who lives in Hyrule. She has a special power that no other Zoras have, but perhaps due to that she's somewhat introverted and doesn't talk much. Famitsu wonders how she will use the spear she's wielding.
Darkel (or literally Darukeru) is a Goron warrior who lives in the mountains of Hyrule. He's normally calm, but when entering battles, he changes into a very brave warrior that screams loudly while sweeping away enemies.
Finally, Reebal is a member of the bird-like Rito tribe which lives in the skies of Hyrule. He is spotted wearing the same blue scarf as Darkel and Mifa, and each of them also wield different weapons.
This is somewhat known, but Famitsu also talks about how there are horse stables located at various places in Hyrule. The player can register their horse or take a break from their trip there. Hyrule was destroyed 100 years ago, but the people live in, so expect to meet new people at villages and gathering places.
Leave a Reply