Nintendo on Switch's initial success, demographics, more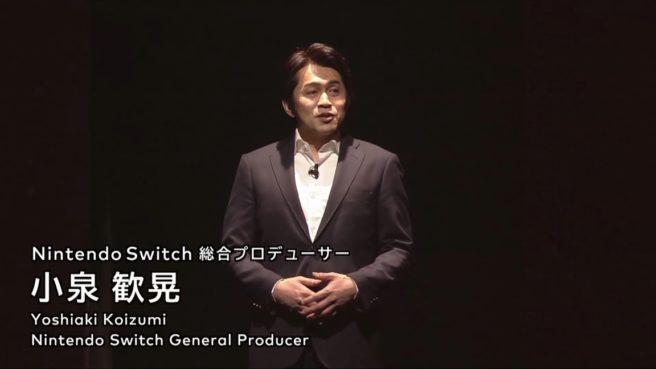 Yoshiaki Koizumi talked a whole lot about Super Mario Odyssey in a recent interview of 4Gamer. But towards the end of the interview, there was some general talk about Switch as well. Koizumi was not only the producer of Mario Odyssey, but also Nintendo's latest console on the whole.
As the general producer of Switch, Koizumi thought sales have progressed faster than thought, since he assumed it would take about one or two years for the concept to permeate by having players bring the console outside to introduce it to others. But since it has spread so quickly, he believed they have conveyed it in the right way.
Switch as a game console has a simple trait that can be explained in a few words: "Anytime, Anywhere, with Anyone". He'd be glad if he can see photos of people playing it during parties or wedding receptions.
4Gamer notes that the majority of people in Japan who purchased Switch are in their teens to their 20s. Koizumi responded by saying that the generation of those aged between 15 and 25 had been a difficult spot for Nintendo, but Switch was able to ignite interest from that particular age range. However, they didn't particularly plan something special for that demographic. At the same time, he also thinks that this generation is the most optimal one to play outside with somebody else. In the current era though, this type of generation had grown accustomed to mobile games, so Switch developers had to make the system as accessible as mobile phones, such as the sleep mode and the quick boot-up.
The concept of sharing Joy-Con with someone else is another point Nintendo wants to focus on. An example of a game that emphasizes it is Snipperclips. He liked it when the indie developer SFB Games pitched the idea of using two controllers to cooperate before Switch was even announced, so he promptly contacted them and had a teleconference. Snipperclips at first didn't receive a huge amount of attention since it was a digital-only title, but thanks to the recent popularity, they were able to release a physical version.
Nintendo has been actively contacting developers of indie games that fit well with Switch. Thanks to the more flexible dev environment, a lot of indie games have gathered. This is because Nintendo wants to have a good variety of games.
Koizumi has a pet theory that home consoles are actually competing with vacations. For example, one could spend money and time to travel to a place like Hawaii, but home consoles are like suggesting "you can use that money and time to play Mario at home instead." This is where handheld systems like DS and 3DS shine since you can bring them on vacations. With Switch, Koizumi wants people to enjoy a variety of high-spec games even during vacations.
When asked about the current tendency of mobile games dominating everywhere, Koizumi said that Nintendo has also entered the smart device business. By doing so, they hope to connect to people worldwide. He thinks smartphones will never cease to be used, so it's important for Nintendo to "get along" with them. The company is also providing the Switch Parental Controls app for adults to take care of their children.
Leave a Reply