Pokemon GO has more installs than Tinder on Android, about to pass Twitter in Daily Active Users
Pokemon GO has only been out for a few days and in three countries, but it's nonetheless doing extremely well. SimilarWeb offers more insight into the app's performance thus far.
SimilarWeb states that two days after Pokemon GO's launch, it was already installed on 5.16 percent of all Android devices in the US. That was July 8. One day prior, on July 7, it already saw more installs on US phones than Tinder.
Another important stat to consider is the usage rate. Over 60 percent of those who have downloaded the app in the US are using it each day. To explain it further, roughly three percent of the entire US Android population are users of Pokemon GO. SimilarWeb labels the metric as "Daily Active Users", and believes it will surpass Twitter in this area as it's already neck and neck.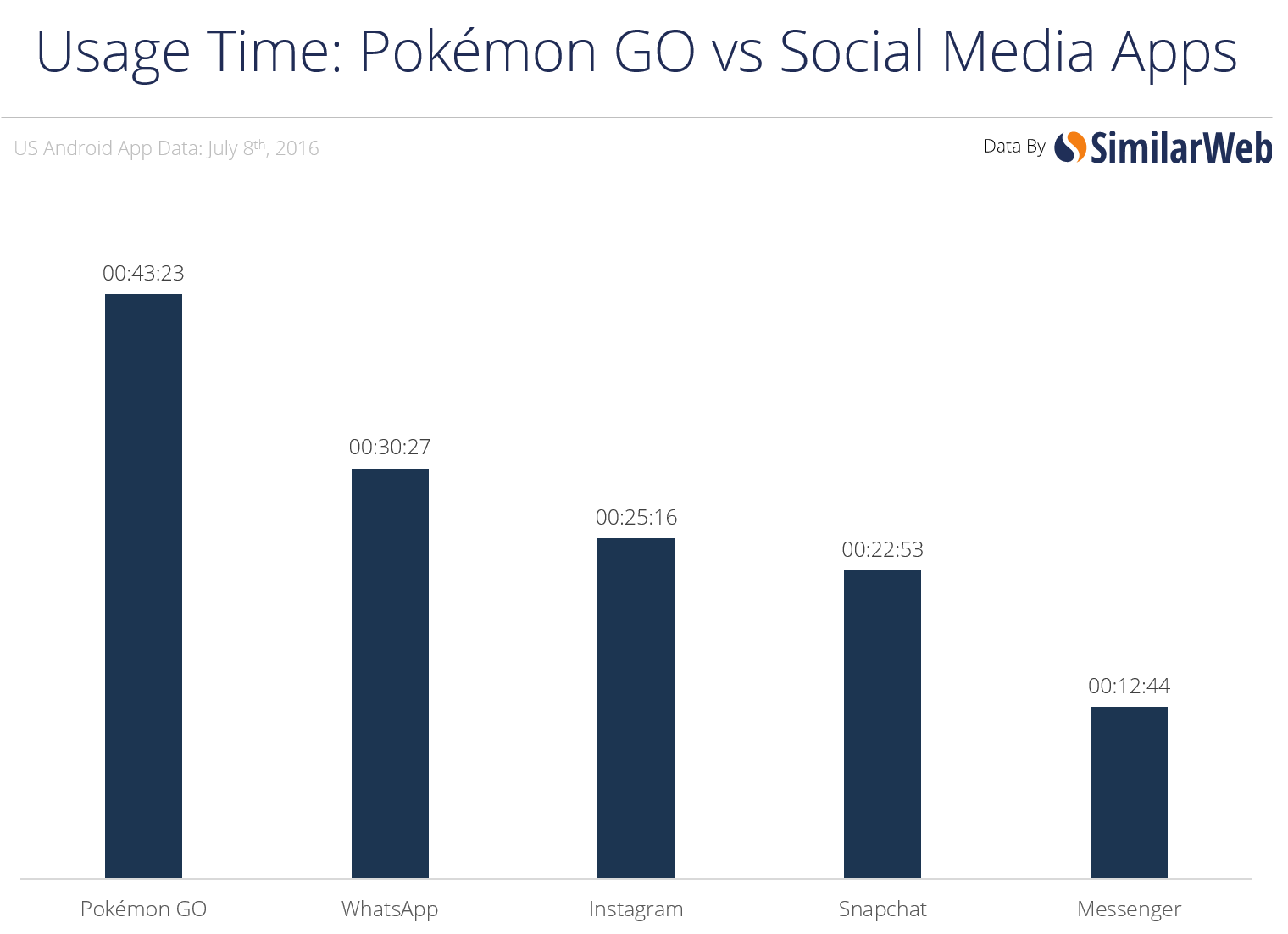 Just how long are people playing go? According to SimilarWeb, as of July 8, it was being used for an average of 43 minutes, 23 seconds a day. That's more than Whatsapp, Instagram, Snapchat, and Messenger.
Finally, here are a few other stats about the APK that's been passed around:
– Traffic to APKMirror.com exploded since Pokemon GO's release
– Went from just over 600,000 visits on July 5th to over 4 million visits on July 6
– This is because fans in other countries wanted to play Pokemon GO, but hasn't been officially released
– Traffic mostly came from Organic Search Traffic
– Over the 28 day period from June 10th to July 7th, 19.6% of desktop search traffic came from the search term "pokemon go apk"
– 30.5 percent of all desktop search traffic over this time period came from searches with the term "pokemon" in them
– Traffic to APKMirror has come from all over the world
– US only accounts for 10.8 percent of the site's desktop traffic over the last 28 days
– Brazil is next with 8.2 percent over the same time period
Leave a Reply