Renegade Kid, Scarab Entertainment announce Razor Global Domination Pro Tour for Wii U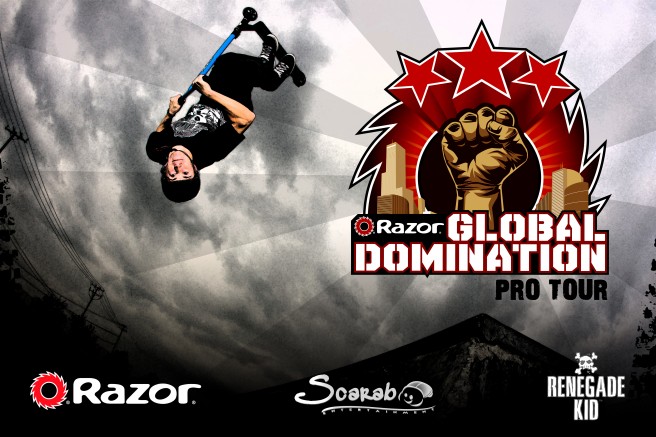 Renegade Kid is teaming up with Scarab Entertainment for a new trick-filled Razor freestyle scooter game. The new project is set for release on Wii U, PS4, and Xbox One in 2015.
The logo above is the only asset available thus far. You can find a press release with a few extra details below.
AUSTIN, TX – FEBRUARY 27, 2014 – Independent video game developer, Renegade Kid, today announced it has partnered with Scarab Entertainment – video game licensee of Razor USA LLC – to develop a unique, adrenaline-charged freestyle scooter experience, titled Razor® Global Domination Pro Tour.

Razor® Global Domination Pro Tour is a robust freestyle scooter experience, where you flip grab, spin, and grind your way to victory by performing dozens of freestyle scooter tricks. Customize your apparel and gear to personalize your Team Razor™ rider. Enhance your performance and take your Razor® scooter to new heights with special upgrades that award you with increased speed and extra airtime. Travel around the world visiting unique skate parks, street jam sessions, and dirt tracks to demonstrate your skills.

"We're thrilled to be working with Scarab and Razor to develop a freestyle scooter gaming experience that compliments the authentically cool brand that Razor has established over the past 14 years," said Jools Watsham, Co-founder and Director at Renegade Kid.

"Renegade Kid was the perfect candidate to help us translate our vision for Razor to the next-generation consoles, and we are honored to have such a talented team on board for this project," said Karim Farghaly, Founder and CEO at Scarab Entertainment.

Razor® Global Domination Pro Tour will flip, grab, spin, and grind its way onto home consoles in 2015, and is slated for Xbox One, PlayStation 4, and Nintendo Wii U. Head over to www.scarabentertain.com for more details soon.
Source: Renegade Kid PR
Leave a Reply