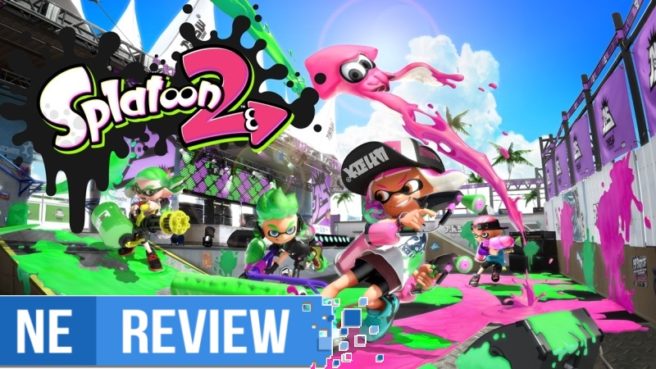 The last available mode to explore online is Salmon Run. It is readily the most different from the others modes, and it's also brand new to Splatoon 2. In Salmon Run, you tackle a horde mode style battle where you and other players must take on waves upon waves upon waves of chum creatures that are trying to steal the precious Zapfish. The goal is to keep them away as long as possible, and yes, there is an end, meaning you can win these. They're only available during certain times of day when playing online (you can also play with friends locally at any time), but with the difficulty settings allowing for some very hard battles, I'm sure this new mode will keep people coming back, especially considering you can find rewards not available in the game's various shops. Salmon Run is a very pleasant surprise, and I never looked back on a match and thought of it as a bad time. The Splatoon formula works perfectly as a horde mode game, and I hope they only go to expand on this mode in future updates.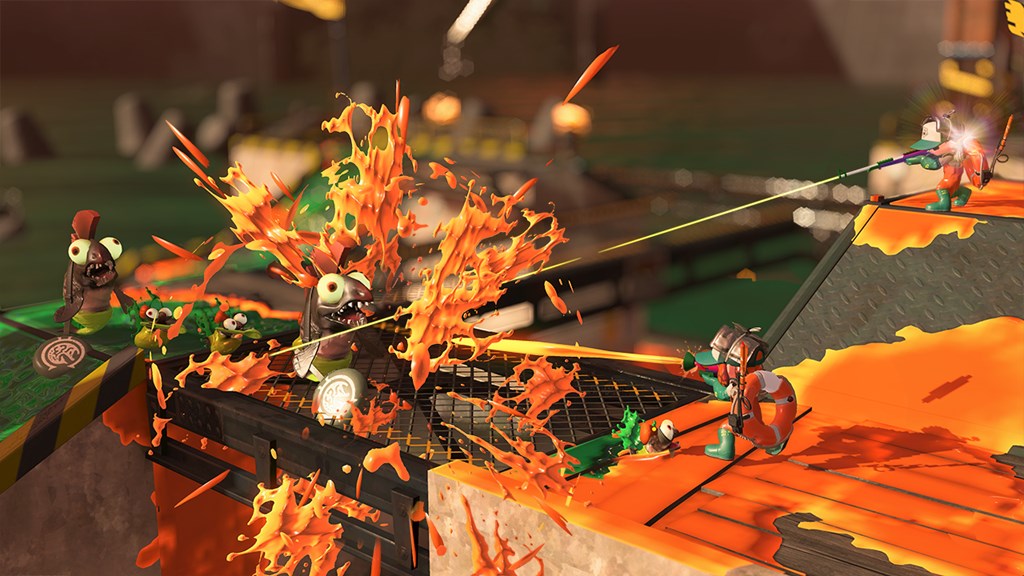 A large part of playing through these modes is finding the gear and weapon type that work best for you. As you play matches, you earn money that you can exchange for clothes – consisting of shoes, shirts, and headgear – along with weapons, all of which come with their own exclusive buffs and faults, meaning there are literally thousands of different ways to find a combination that works best for you (all stores don't open until you reach level 5). Certain pieces of clothing can help you recover faster, not waste as much ink, make fast travel easier, and a bunch of other little bonuses that do add up. The weapons are a whole other beast entirely, consisting of a ridiculous variety of play styles. A personal favorite of mine is the new umbrella weapon that works like the rollers, except have a launchable tip that can also be used as a shield. Some other fun weapons are the paint brush, and the gatling gun-style paint shooter. When combined with all the other weapons types we've known to expect, Splatoon 2 creates a pleasing variety of setups that you can get accustomed to and keep in your arsenal. Plus, the people who run the shops are all super cute personalities who make funny one-liners. What's not to love?
Splatoon's online is supposed to work better with Splatoon's designated voice chat app, though unfortunately this service doesn't launch until the game itself does, meaning I couldn't get a heads up look on what's all there. However, there's not denying that even without the ability to speak with others, I still had a blast playing through these modes online. There's something so addictive about finding that perfect setup and going on a victory-streak with a team you've gotten used to. It's these moments where Splatoon shines the most.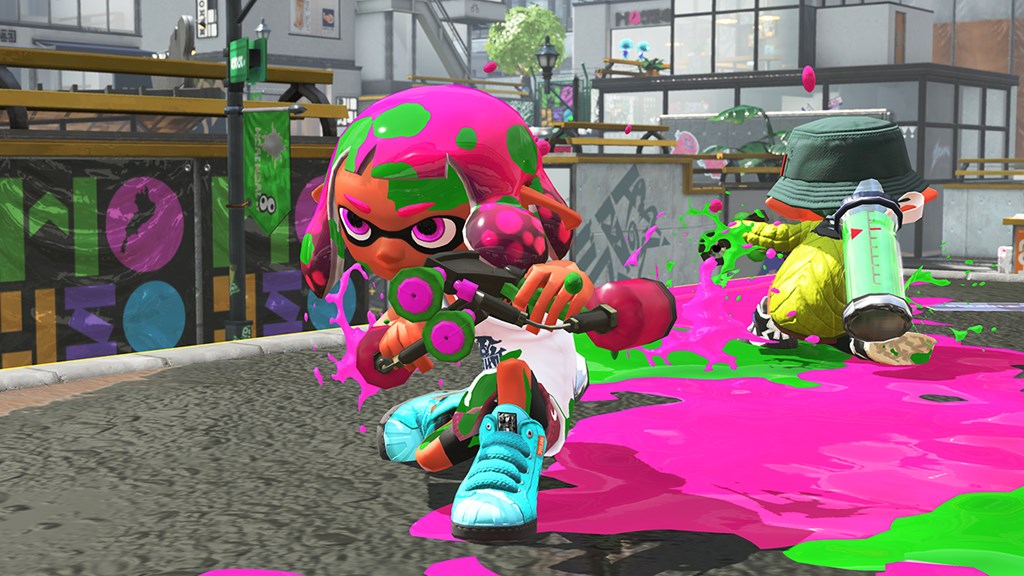 I also feel it's important to mention just how great of a new world Nintendo has created with Splatoon. These sharp, bright colors fill a world full of bustling and hilarious characters, all that jive together to make a game that's just plain fun. Splatoon's simplicity is what makes it so great. You hop right in to a heated match, stay for a few more, walk away, and come back the next day and do it all again. The Switch's hardware itself also play heavily into making this sequel work so well, as the system can be hauled anywhere and played anywhere. I was fortunate enough to receive this game before several long flights, and having this as my travel companion was perfect. Setting the system up on its stand and taking out the Joy-Con and still being able to use the gyro controls perfectly is just a testament to this system's value. I finally had that "aha!" Switch moment, and it felt so good.
In case it wasn't apparent enough, Splatoon 2 managed to be even fresher than its predecessor. Undoubtedly launching as a much fuller game, it has everything you could ask for in a sequel. Its single-player had me hooked, the multiplayer genuinely has me addicted (call help), and the charm and lovableness of this world is too much to turn down. It is no question that this game is the perfect summer title that Switch needed. I can't wait to watch this game only grow as content rolls out through the year and Splatfests are hosted for the next two.
---
The Verdict

---
It's no question that the Switch has had a hit first year of games, and it is my joy and pleasure to say that Splatoon 2 fits right in with the other gems. Rarely does a title, especially an online-focused one for that matter, hooks me as much as this one managed to, but I'm sure glad it did. I've spent nearly fifty hours into this Splatoon 2 already, and I'm ecstatic to sink even more. Splatoon 2 took the airtight formula of the first title, expanded and improved on it in nearly every way, and culminated into an excellent addition to Switch's lineup.
---
Splatoon 2 review copy provided by Nintendo for the purposes of this review.
Leave a Reply