Some new Genei Ibun Roku #FE infos and screenshots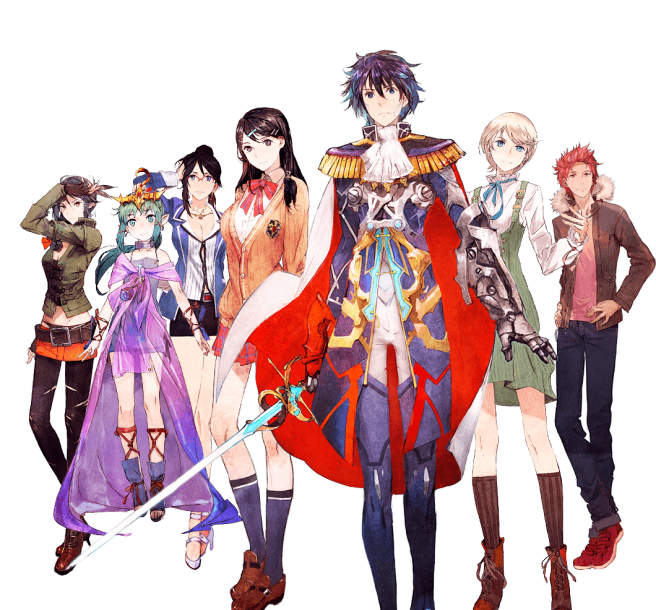 This new information comes from a developer interview published in last week's issue of Famitsu. Some of this will actually be familiar if you've watched the Nintendo Treehouse Live @E3 segment which featured this game, but I'll highlight some of the interesting new stuff.
Various things will be displayed on the Game Pad while you're playing, such as:
– a chat app in the vein of WhatsApp or LINE (including emoji), which features interactions between the various characters
– a map
– details about the characters and enemies in combat
– one additional option (unknown at the moment)
The # in the game's title is the musical symbol for "sharp", which symbolizes the fact that Genei Ibun Roku #FE is more than just a collaboration title, according to the developers.
As you've seen in the various trailers, the main characters will be able to fuse with the Mirages, which are the Fire Emblem characters found in the game such as Chrom and Caeda. We now know that that form is known as Carnage Form.
The live musical performances in the game (such as the one shown in the Treehouse segment) are done via motion capturing. This is common practice these days for various music / idol anime series and games such as Love Live! and Idolmaster.
Finally, here are some of the companies / staff members that are contributing to the game:
– Character design: toi8
– Mirage design: CyDesignation (Shingeki no Bahamut), Hideo Minaba (Final Fantasy XI) and more
– Music Production and choreography: avex group
– Music: Fujisawa Yoshiaki (Love Live!)
– Animation: Anima (Love Live!), STUDIO4°C (Catherine)
Finally, check out some new screenshots in our gallery below:
Genei Ibun Roku #FE will be released in Japan later this year and in Europe and North America next year.
Leave a Reply