Ultra Street Fighter II: The Final Challengers details – HD Rumble, replays, more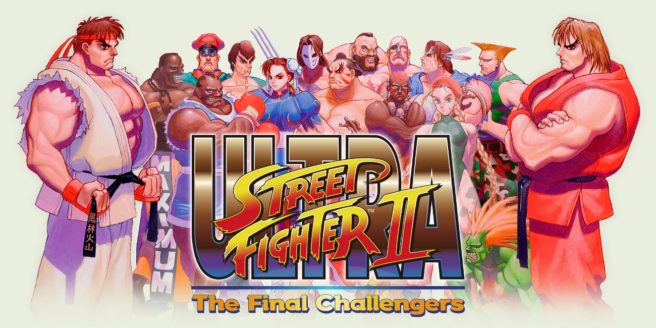 Nintendo updated its Ultra Street Fighter II: The Final Challengers website today. It contains a lot of information that we heard about previously, but there are new tidbits here as well. The site covers HD Rumble, replays, and the game's various other modes and features. We've rounded everything up below.
What's new?

ULTRA STREET FIGHTER II: The Final Challengers boasts a number of improvements, upgrades and refinements – many of which are exclusive to Nintendo Switch – making it the ultimate version of an all-time fighting great.

A refined look

The iconic visuals have been overhauled for a crisp, clean and modern look, yet remain as charming as ever. More of a traditionalist? You can switch between HD graphics and the original style in the menu for old-school kicks!

New characters

In addition to the returning cast from the original game, two new characters join the Street Fighter II roster for the first time in almost 20 years. Evil Ryu, the form Ryu takes after succumbing to darkness, and the brainwashed Violent Ken are perfect for players seeking more aggressive play styles.

New ways to play

With the new and exclusive Buddy Battle and Way of the Hado game modes, go beyond the classic Arcade and Versus gameplay that the Street Fighter series is known for. Whether you're fighting solo or with an ally, there's plenty to keep you on your toes.

Perfect for beginners, the Lite control scheme allows you to map special moves and even super combos to a single button press (or a tap of the touch screen in handheld mode) levelling the playing field for newcomers. Don't worry, Pro players – if you're playing online, you won't be matched against Lite players in Ranked matches.

HD rumble

Harness the power of incredible special moves with the Joy-Con's HD rumble feature. Feel the Hadoken shoot across the screen – and across the palm of your hand – or unleash a Shoryuken as you feel it spin up inside the Joy-Con.

Color Editor

Customise your favourite Street Fighter characters and fight in style with the in-game Color Editor! Create surprising new looks for iconic fighters and stand out from the crowd with your own signature colour combinations.

Hey! Something's not quite right here…

Exclusive art gallery

Browse through 30 years of Street Fighter history with a stunning digital art book, featuring more than 1,400 high-resolution images from the series' illustrious past. With over 250 pages packed full of incredible illustrations from the out-of-print Street Fighter Artworks: Supremacy collection, it's essential viewing for any Street Fighter fan.

Multiplayer and Modes

ULTRA STREET FIGHTER II: The Final Challengers on Nintendo Switch makes it easy to play with others. With a number of co-operative and competitive modes, as well as seamless drop-in/drop-out functionality, it's the perfect pick-up-and-play fighter.

Whether you're at home, in a café, at the park or even on a train, Nintendo Switch lets you unleash classic Street Fighter gameplay at a moment's notice!

TV mode: Place the Nintendo Switch console in the Nintendo Switch dock and duke it out on the big screen at home, just like the good old days.

Handheld mode: Play solo on a large, beautiful display wherever you go, or link two consoles together for wireless two-player battles.

Tabletop mode: Simply prop up Nintendo Switch with the built-in stand, remove the Joy-Con and hand one to a friend – now you're both ready to rumble!

Arcade

In this single-player mode, travel around the globe and defeat legendary characters in succession to emerge victorious. It's the mode that made Street Fighter II a worldwide phenomenon.

Versus

Grab a friend and go head-to-head in classic Street Fighter action. Choose your favourite character, show off your skills and vie for supremacy (and the bragging rights!).

Buddy Battle

Put your differences aside and team up against the CPU for co-operative clashes in the all-new Buddy Battle mode. Come together and throw down new two-player combos as you take on the enemy from both sides.

Online

Struggling to find a sparring partner? Hop online* to fight against friends and foes the world over in Ranked or Casual matches. Show your prowess with online leaderboards* that track both your overall Player Points and character-specific Battle Points.

Way of the Hado

Use the motion-sensing capabilities of the Joy-Con to fight against the Shadaloo army in an all-new first-person action mode. Feel what it's like to be Ryu as you pull off signature moves like Hadokens and Shoryukens.

Training

Sharpen your skills or simply refresh your memory in the Training mode. Practise special combos to your heart's content, ingrain those button sequences into your muscle memory and reach your peak fighting power.

Fight Requests

Forge new rivalries with Fight Requests! If you enable Fight Requests in the menu, nearby and online* players can challenge you to battle when you're playing in Arcade mode – should you accept, they'll jump seamlessly into your game, just like they joined you at the arcade cabinet!

Replays

Relive your greatest (and most gruelling) moments by saving your replays and watching them back at your leisure. You can skip through rounds during playback, too, so you can find that super combo finisher more easily!

Characters

The Final Challengers

For the first time since Super Street Fighter™ II: The New Challengers, additional fighters join the proceedings, bringing all-new movesets and a more aggressive play style to the table. Evil Ryu and Violent Ken are the first new additions to the Street Fighter II roster in almost 20 years.

Returning warriors

Of course, all of the legendary World Warriors return from the original too, ready to do battle. With both HD and classic graphical styles to choose from, this bunch of brawlers are rocking both nostalgic and new looks! Who's your main?
Leave a Reply