Why EDGE gave Bayonetta 2 a perfect score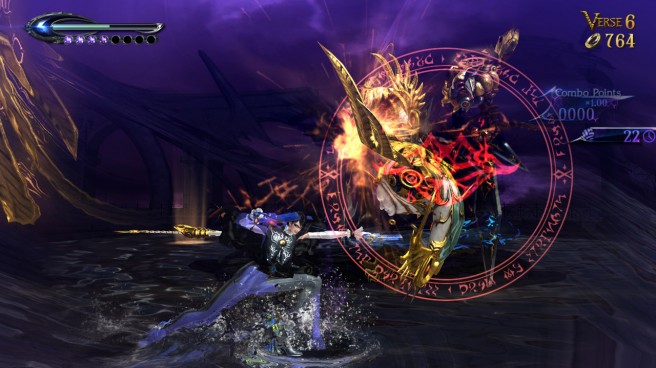 In this month's issue of EDGE, the magazine handed out one of the first western verdicts for Bayonetta 2. PlatinumGames' newest title earned a perfect 10 / 10 mark, making it one of only 17 games to have been awarded with a perfect score.
EDGE said in its review that "Bayonetta 2 is in many ways a perfect fit for Nintendo, with its bright blue skies, its easy charm, its relentless procession of ideas and its immaculately tuned controls."
Other tidbits from the publication's review:
– "best-in-class set of combat mechanics"
– Can be enjoyed by new players as well as those who are more familiar
– Other similar games "hide their greatest prizes behind a skill barrier that may take dozens of hours of study and practice to surmount", but Bayonetta 2 "simply asks that you keep pressing buttons"
– Umbran Climax mode "adds yet another layer of dazzling spectacle"
– Praise for the visuals and colors
– "There is still nothing quite like it"
– "There are stumbles along the way", but EDGE believes the only thing wrong is how closely Bayonetta 2's formula is similar to the first game
– This might have been more of a problem if the genre had advanced in the past 5 years, but no one "has even come close to pushing it"
– Issues with the first game have been ironed out
– Mid-cinematic QTEs and shooting mini-game between missions are gone
– Enemy weapon picks are a bonus instead of a penalty
– Pacing improved
– Cut-scenes "are a good deal snappier"
– EDGE says you could "play and replay forever" because of the different accessories, weapons, hidden battles in chapters, online co-op, and more
EDGE ended with the following:
You never tire of it, but how could you? This is a game that begins with Santa riding a car along the side of a building, continues with you summoning a demon to headbutt a meteor, and ends with the most joyously cathartic climax of any game since, well, Bayonetta. When the pace does dip, there is more than enough charm, wit, and heart to take its place. It is a masterclass in combat design, in videogame variety, in the balance between accessibility and depth. Sure, it's a sequel, but it's a sequel to what has stood, for almost five years, as the best game of its type ever made. Until now, that is. SEGA's loss is Nintendo's gain: Bayonetta, twirling away from a gigantic demon's maw and smacking the highest choir of angels on the nose, has just given Wi U its first true classic.
Thanks to joclo for the tip.
Leave a Reply