Why Japan's prime minister lacked Mario's mustache during the Rio 2016 Olympics closing ceremony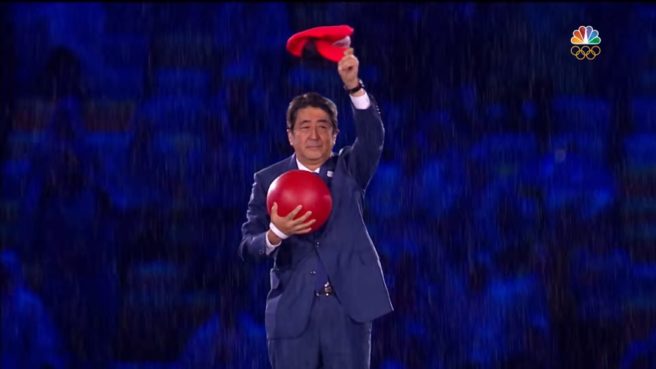 The closing ceremony of the Rio 2016 Olympics had a rather big tie-in to Nintendo. Mario was shown in a video clip, and Japan's prime minister Shinzo Abe came out of a Warp Pipe dressed as Mario to ring in the next event in Tokyo.
Abe's "cosplay" was received favorably. Heck, even the G20 leaders were praising him for it. However, some wondered why his outfit did not include Mario's famous mustache.
As stated in the Japanese newspaper Yomiuri Shimbun, at first it was considered to include Mario's mustache. But around the same time as the Olympics closing ceremony was being held, a typhoon was approaching the Kanto region, and damage was predicted. It was Abe's own decision to not include the mustache so that he wouldn't look too much "in jest".
Due to the natural disaster, there was also the option to not cosplay at all. If they moved in that direction though, there would be a lack of surprise, so a mustache-less approach was considered to be the best, being borderline unique. Other than that, at first they also considered asking a sports legend or an athlete who looks like Mario to handle the proceedings, but it was scheduling made things difficult. So by the idea of former prime minister Yoshiro Mori, it's Abe who dressed up as Mario's famous plumber in the end.
Nintendo has previously said that it did not pay for Mario's inclusion in the Olympics ceremony. Also, the company does not currently intend to sponsor the event.
Leave a Reply