Zelda: Breath of the Wild's backstory revealed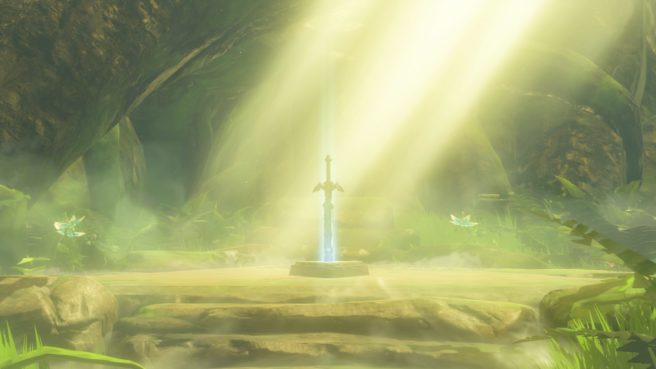 At the beginning of Zelda: Breath of the Wild, Link awakens following a 100-year slumber. Clearly something big happened beforehand that led to him being in that state.
Now we have a decent idea about that backstory surrounding Breath of the Wild. During last week's Treehouse Live stream, Nintendo of America president Reggie Fils-Aime showed off a map from the game's limited editions, the back of which contains cryptic tapestry with Hylian/Sheikah language. What's stated there has been revealed after fans went through a lengthy decoding process.
Since this may fall into spoiler territory for some, we've posted the transcript after the break.
"Hylians pass stories of a destined time long past, where multiple races lived and worked together in harmony. The Sheikah Tribe's blue aura breathed through the land, and this mutual prosperity continued, until a cataclysmic disaster struck. The hero and the princess attempted in vain to seal the terror, which became known as the Calamity Ganon. Divine Beasts awoke from four directions, and deployed a mechanical army which made the king and his people fearful. They fractured Ganon's power and sealed him… But the Sheikah were banished from the land ever since."
It was quite the task putting the transcript together. It was first translated from Sheikah to Japanese before obtaining the English result. YouTube user Zeltik goes over it a bit more in his video below.
Leave a Reply