Kirby Star Allies has seen a visual boost, plus other small touches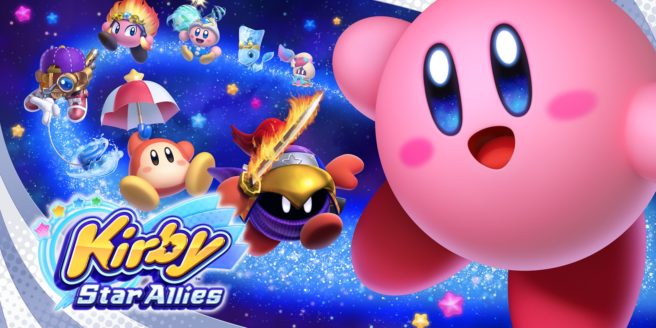 Kirby Star Allies reappeared in this week's Nintendo Direct Mini. It was the first time we've seen the game in several months, as it was last showcased during the September Nintendo Direct.
In the past, we've seen that Nintendo has improved the visuals of its games over time. That was the case with Super Mario Odyssey. Likewise, Kirby Star Allies has been given a boost.
Kirby fan reserved_kirby pointed out some of the improvements on Twitter, as well as some of the smaller touches you may not have noticed. We've rounded up the relevant points below.
Not sure how many people noticed it, but Kirby: Star Allies has received some amazing visual upgrades compared to the previous trailers. @KirbyInformer pic.twitter.com/iUeZvjxLZL

— Reserved (@reserved_kirby) January 12, 2018
Some other fun visual things…

When Meta Knight's wings are appearing, they size in almost immediately. If you look at it frame-by-frame, you can see him with his smol flappers. pic.twitter.com/illswajmdg

— Reserved (@reserved_kirby) January 12, 2018
Susie 2.0 uses a Super Soaker to attack. Also, the "boss attack" stars that are generated from her are purple. They also bounce around, rather than sit still like usual. Possibly an attack, too? pic.twitter.com/WYrFD1DySg

— Reserved (@reserved_kirby) January 12, 2018
Kirby's closed eye, for some reason, has a ton of detail added to it. Also, his pink eye ring thingy from renders is present. pic.twitter.com/mv6hwTjLp7

— Reserved (@reserved_kirby) January 12, 2018
This isn't exactly visuals, but…after 15 years, Sir Kibble finally remembered how to walk! pic.twitter.com/vr4ZTbOiZB

— Reserved (@reserved_kirby) January 12, 2018
When enemies are hit with paint-based attacks, they actually end up covered in various colors. Once they're eliminated, they end up exploding into paint rather than dust and stars. (Noddy and Sir Kibble are shown) pic.twitter.com/fX2XRwcnLw

— Reserved (@reserved_kirby) January 12, 2018
The star particles that are generated from landing attacks all have individual light sources. Neat! pic.twitter.com/kInVijqgqO

— Reserved (@reserved_kirby) January 12, 2018
It's been many, maaaaaannny years, but the enemy spawner is finally returning to a mainline Kirby title. Here's an adorable tiny Nruff being generated into existence. Also, it's pretty obvious, but this area is actually Dedede's Castle. pic.twitter.com/NdtpnyeLwS

— Reserved (@reserved_kirby) January 12, 2018
The Friend Train is a direct reference to the Pupupu Train lineup, which was also developed for Kirby's 25th anniversary. The one in Star Allies is even roped together through some magical sparkle rope thing. pic.twitter.com/fq7orzUsit

— Reserved (@reserved_kirby) January 12, 2018
Food sparkles. pic.twitter.com/1lFGx7JwNE

— Reserved (@reserved_kirby) January 12, 2018
It seems that enemies can drop the hats, similar to how Kirby created them in Super Star. Also, the bottom of the Warp Star features a heart insignia. pic.twitter.com/oFMaPBUXcU

— Reserved (@reserved_kirby) January 12, 2018
The water helper, Driblee, floats with a tube…yet the tube is underwater. Also, Driblee's design was revamped from E3. pic.twitter.com/WvwDQzP6BN

— Reserved (@reserved_kirby) January 12, 2018
Pop Flowers are returning. It's not exactly told from this one, but it's likely that they're once again based on the level theme. pic.twitter.com/8rfsptDhd3

— Reserved (@reserved_kirby) January 12, 2018
Knuckle Joe returns. pic.twitter.com/V6ftlM6SUH

— Reserved (@reserved_kirby) January 12, 2018
Propeller returns, no longer mechanized from Planet Robobot. pic.twitter.com/ct4IGQ8wZF

— Reserved (@reserved_kirby) January 12, 2018
The star that usually pops out when Kirby lands isn't present. It's unlikely to return at this point, given that it hasn't been in any game since Robobot. pic.twitter.com/I1JH7iFTeZ

— Reserved (@reserved_kirby) January 12, 2018
Leave a Reply