A Dark Room update adding Game Boy-inspired aesthetic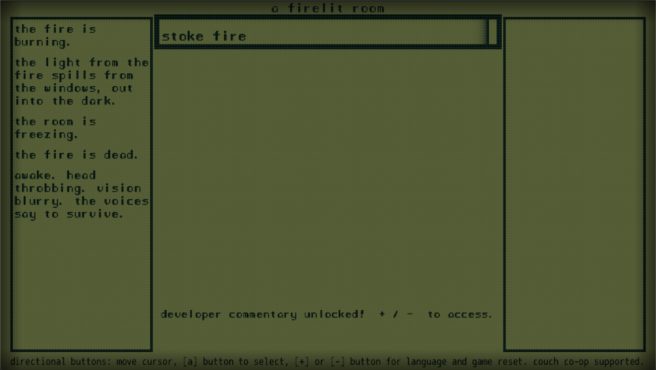 The text adventure game A Dark Room will be updated today to add a Game Boy-inspired aesthetic, matching the recent Japanese release, Circle Entertainment and Amir Rajan have announced. The patch is going out in North America, Europe, Australia, and New Zealand.
For those that need a refresher, here's some information about A Dark Room:
A Dark Room challenges the player's perceptions, actions and imagination. Visually clean, it presents text and cues with limited visual flourishes, but the experience that takes shape is full of depth and environmental storytelling. Newly designed audio is also important, portraying a dark world that the player can only imagine.

It is a game that draws players in, allowing them to perceive the intriguing world in their own way. What starts as a dark room with limited interactive options evolves into a complex story and resource management challenge.

Adapted especially for the Nintendo Switch, you can play with physical controls or the touch screen; exclusive to this version of the game is an enhanced user interface, new audio, additional commentaries and local co-op play.
A Dark Room is available for Switch via the eShop. There's a 40 percent discount in place right now until July 2.
Source: Circle Entertainment PR
Leave a Reply