A look at Reggie's retirement gifts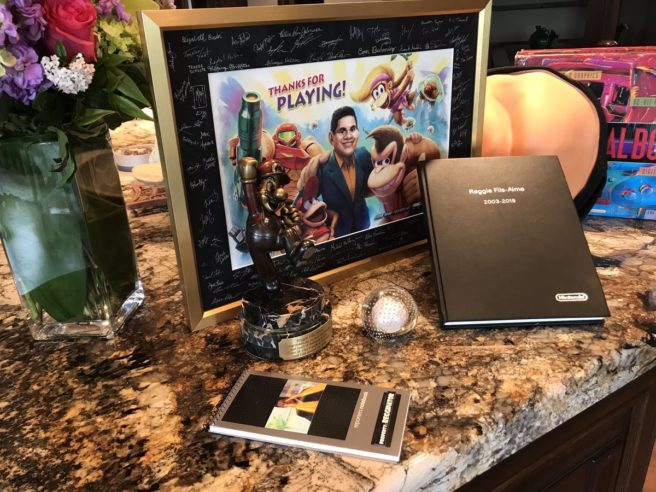 Update (4/18): We've updated this post with another one of Reggie's retirement gifts.
---
Original (4/17): As the former Nintendo of America president, Reggie Fils-Aime was a big deal. He had plenty of respect inside the company, and was also beloved by fans.
Reggie might have retired from Nintendo, but he was most definitely sent off in style. A number of lovely gifts were sent his way, including a working Virtual Boy, art from Retro Studios, a "notebook for names taken," "a plastic ass to kick," a book of notes from employees, a Mario statue, and a special art piece.
Here's a look:
One of the best retirement gifts so far. From my good friend ⁦@geoffkeighley⁩ Commissioned from wonderful artist Sam Spratt. Thanks Geoff! pic.twitter.com/mNhvCndk4o

— Reggie Fils-Aime (@Reggie) April 16, 2019
Last of my retirement events was last night. Received some wonderful gifts and souvenirs. Yes, that is a working Virtual Boy. Art from Retro Studios. Notebook for names taken. A plastic ass to kick. A book of notes from employees. And a Mario statue. End of an era. pic.twitter.com/mrOVL1ANPO

— Reggie Fils-Aime (@Reggie) April 17, 2019
Last time. My most touching gift. Given to me by David Young @NintendoAmerica — aka @MusicBankRefuge His Iwata amiibo made by @MissGandaKris Now proudly next to my Regginator amiibo. All I need is a custom Miyamoto amiibo and the gang is complete. T-shirt from @Official_GDC 2007 pic.twitter.com/zoKomY9z22

— Reggie Fils-Aime (@Reggie) April 18, 2019
Leave a Reply