Ace Attorney 6 details – episode 2, characters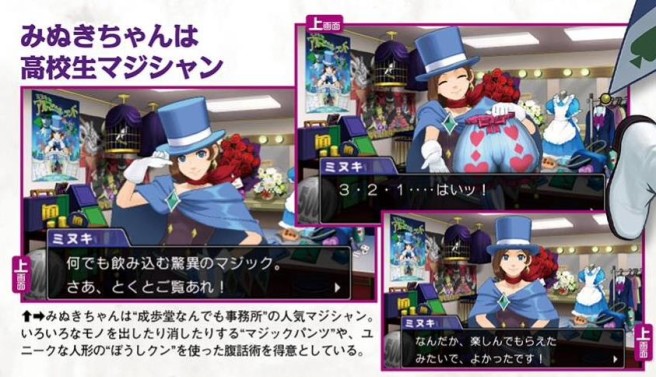 New details about Ace Attorney 6 have popped up from this week's issue. In the magazine, episode 2 and some characters are detailed.
Here's the full roundup, courtesy of Court-Records:
– Episode two begins during a rehearsal for one of Trucy's shows
– This is "Trucy in Gramaryeland"
– While the rehearsal is happening, things take a turn for the worst
– The body of one of her co-performers, "Mr. Menyo", appears mid-way through
– Moments later, part of the stage collapses
– Trucy's arrested and held responsible for the accidents
– Apollo leaps into action to save her
– Kanenari Shinoyama (self-styled as "Jack Yamashino"): famous producer of Nidomi Terebi (Look Twice TV)
– He's putting on the special broadcast Trucy's magic show is part of
– Mimi Nanano: Trucy's assistant
– Mimi is the "rabbit girl"
– She seems to be hiding something that requires Apollo to use his Perceive ability on her (in investigation)
– Ema has achieved her dream of becoming a forensic scientist
– She's quite a bit happier now
– She still warns in one screenshot that Apollo'd better not touch anything if he doesn't want to see her angry
– Forensic investigations are back
– Two shown in Famitsu are fingerprint searching and the ability to compare multi-angle videos of the crime scene to look for contradictions
– Fingerprint searching is now combined with 3D evidence examination
– Investigation memo is back
Japanese Voice cast:
Phoenix Wright: Takayuki KOND?
Apollo Justice: KENN
Athena Cykes: Megumi HAN
Maya Fey: Satomi HANAMURA
Nayuta: Daisuke NAMIKAWA
Leifa: Saori HAYAMI
Bokto: Emiri KAT?
Leave a Reply