Adventure Academia: The Fractured Continent English release set for 2022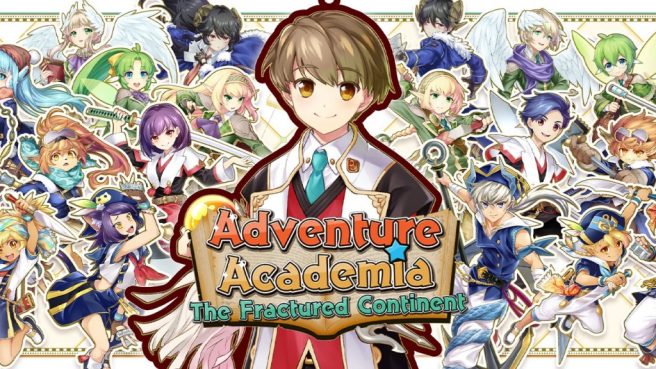 Adventure Academia: The Fractured Continent had already been confirmed for English release, but we now know that it will be available later in 2022. PQube will be handling the title overseas.
Acquire first announced the project for Switch last month. In Japan, it already has a confirmed date of September 9, 2022.
We have more information about Adventure Academia: The Fractured Continent below.
Adventure Academia: The Fractured Continent is a fully-fledged strategy RPG with a unique "pinch, drag, and drop" real-time battle mechanic. Customize your own party of students in a fantasy realm with over 10 different races such as, Elves, Dwarfs, and Diabolos! Manage their armor, weapons, and accessories as you tactically guide them to victory against the monster hordes.

Explore a charming strategy RPG with fun, lovable protagonists of many different races from the cat-like Felpurr to the angelic Celestia!
Pinch, drag and drop your team to victory with a uniquely intuitive real-time battle system.
Build an A-plus dream-team of students, manage their stats, weapons and abilities!
A charming narrative guides you along the way, with optional side quests to help unlock even better gear!
Traverse a range of distinct environments with gargantuan monster bosses to fight at the end of each level!

Join Alex and His Friends in a Gripping Narrative Adventure

The Continent of Pedra is in the midst of a serious crisis. The entire nation is slowly transforming into a labyrinthine dungeon with monsters roaming the lands. When Alex's father—principal of their school, "Obsidian High" – goes missing, it's up to Alex and his party of academy friends to track him down!

Take command and forge your way forward in order to learn the truth of the fractured continent. Meet unique characters along your journey and take part in side quests to aid those that request your help!

Drag, Drop, and Battle in Real-Time

Strategically guide your team to victory on a grid based, real-time movement system. Pick up and reorder your party to protect the main character, Alex, as you traverse around the map. Your team dives into battle whenever they get close to an enemy—so make sure you're constantly in formation!

Meet 10 Unique Races

Recruit up to six students for your party! Give them names, choose their gender, manage their equipment, and customize their stats to suit your play style!

There are 10 different races available: Human, Khaluz, Felpurr, Bahamoon, Gnome, Diabolos, Fairy, Celestia, Dwarf, and Elf!

Face Gargantuan Monster Bosses

Each stage features gargantuan boss monsters with varying abilities and attacks! You'll have to guide your party properly… or face being wiped out completely!

Equip, Upgrade, and Manage Your Party

Manage and customize weapons, armor, and accessory slots for each of your teammates. Save up enough gold by completing levels and take weapons down to the laboratory for special, custom enhancements!
And here's the English trailer for Adventure Academia: The Fractured Continent as published by PQube:
Adventure Academia: The Fractured Continent will be sold both physically and digitally on Switch. Pre-orders should be opening soon at major retailers.
Access the official website here.
Source: PQube PR
Leave a Reply