Among Us update out now (version 2022.9.20), hololive DLC live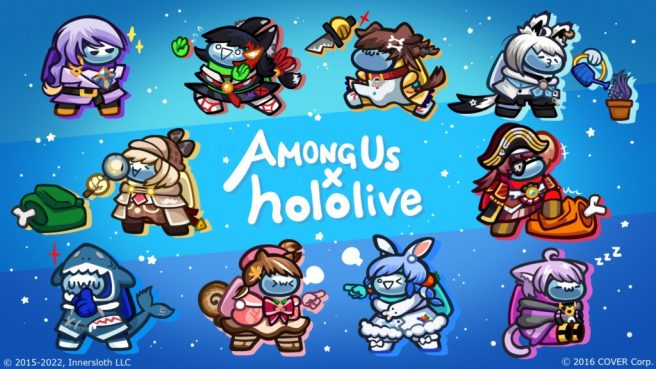 Among Us has just gained a new version 2022.9.20 update, which brings about hololive cosmetics DLC.
Crossovers and collaborations are all the rage these days, and that's something we're seeing again here. Players can unlock their favorite VTuber cosmetics with the Cosmicube that's being offered for 110 Stars.
The following cosmetics can be unlocked after purchasing the hololive production Cosmicube for Among Us:
Ayunda Risu Outfit
Ayunda Risu Hat
Gawr Gura Outfit
Gawr Gura Hat
Houshou Marine Hat
Houshou Marine Outfit
Inugami Korone Outfit
Inugami Korone Hat
Moona Hoshinova Outfit
Moona Hosinova Hat
Nekomata Okayu Outfit
Nekomata Okayu Hat
Ookami Mio Outfit
Ookami Mio Hat
Shirakami Fubuki Outfit
Shirakami Fubuki Hat
Usada Pekora Hat
Usada Pekora Outfit
Watson Amelia Outfit
Watson Amelia Hat
No Thoughts Visor
Sweepy Visor
Smug Aura Visor
Ah. Visor
Hmph! Visor
Teehee! Visor
Bored Now Visor
Nudge-Nudge Visor
Marine's Eyepatch Visor
Haha What Could Be Wrong? Visor
Note that the Among Us hololive production Cosmicube can only be purchased until December 20, 2022. All content is kept forever after it's been bought.
Leave a Reply