Anima: Gate of Memories and Anima: Gate of Memories – The Nameless Chronicles coming to Switch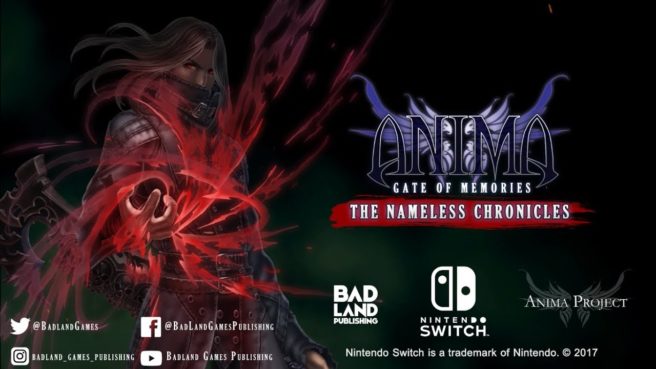 Following up on yesterday's PEGI rating, Switch is confirmed to be getting Anima: Gate of Memories – The Nameless Chronicles. The original Anima: Gate of Memories is also coming to the console.
Players will be able to purchase the two titles individually or as a bundle. They'll cost €19.99 a piece or €29.99 together.
Here's more on both Anima: Gate of Memories titles:
Anima: Gate of Memories
Anima: Gate of Memories is a third-person Action RPG that tells the story of two beings linked together by an involuntary pact, an ancestral monster and a young woman who has lost her past …

Forced to stay together, their lives will take an unexpected turn when they discover that something more dark than they could imagine is about to start, a war in the shade in which both will have an involuntary leading role.

Anima: Gate of Memories brings videogames to the world of Gaïa, from the popular role-playing saga Anima Beyond Fantasy. In it you will enjoy a story where your actions and choices will decide the course of the trip and the fate of the characters.

Dual characters

In Anima: Gate of Memories you control two different characters, Ergo and the Calamity Carrier, and you can exchange from one to another thanks to the special synergy between them. What makes this system truly special is that both are not physically present at the same time, but we can invoke the other in the middle of any action, continuing their movements and creating spectacular combos. Each character also has a wide range of special abilities, which you can develop and customize as in a real traditional RPG.

• A deep history. The decisions and actions of each player will influence the trip and decide the fate of your characters.

• Epic battles with formidable opponents. Face countless creatures of legend, each of which has its unique style.

• A combat system that combines elements of a traditional RPG with frenetic action and spectacular attacks and spells.

• Unique places. Travel through the Tower of Arcane and the world of Gaia crossing spectacular landscapes.

• A huge world. You can move with great freedom, visiting very different locations and can always retrace your steps to access new secrets and open access to previously inaccessible areas.
Anima Gate of Memories – The Nameless Chronicles
Anima The Nameless Chronicles is a third person role-playing game that tells the story of the Sin Nombre, an immortal being with a curse: to travel the world for all eternity.

When you encounter a shadow of your past, you must participate in a conflict that will put your whole existence at stake.

Will it be our last hope or our perdition? The Nameless Chronicles is the second videogame set in the world of Gaia de Anima: Beyond Fantasy. Enjoy a story in which your decisions affect your adventure and mark your destiny.

• Use the Hand of Tanathos, an action system that allows the Unnamed name to temporarily join Death.

• Customize your game style with upgradable skills.

• A story full of unforgettable characters.

• Epic battles against formidable and legendary enemies with unique characteristics.

• Equip yourself with dozens of weapons and artifacts.

• A huge world: move freely and unlock new areas.
Release dates for these games have not yet been announced. The developer is putting a focus on achieving 60 frames per second with the Switch versions.
Leave a Reply