Animal Crossing: New Horizons announces Happy Home Paradise DLC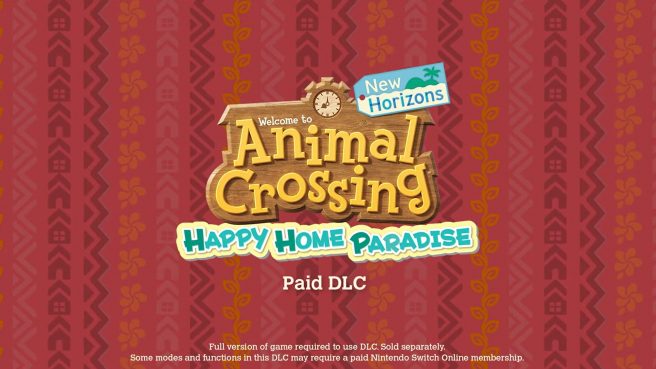 Nintendo has announced Animal Crossing: Happy Home Paradise, paid DLC for Animal Crossing: New Horizons. If you pick up the new Nintendo Switch Online + Expansion Pass bundle, you can obtain the content at no extra cost.
The premise of the DLC is that you'll assist Paradise Planning, a resort developer, in designing vacation homes. You'll be in charge of coordinating dream lifestyles for characters. You'll ultimately want to help others acquire their dream vacation homes.
Characters with dreams will come to visit this particular island. Start out by selecting an island for a vacation home. Each island has distinct features, such as yards differing from island to island. You'll want to pick the island that best matches the request, then head on over to the site.
When arriving on the island, you'll take a tour of the home, place the furniture that's been requested by a client, and everything else is then up to you. Recommended furniture will be available to you. You can add lighting to the ceiling, wallpaper, and more. Placing furniture, fencing, paths, and trees outside of the house is also possible. The home's location and exterior can be modified as well, on top of the season, time of day, and weather.
Eventually, more design techniques will open up in the Happy Home Paradise DLC for Animal Crossing: New Horizons. These include adjusting the size of the interior. Partition walls can also be used to divide the space, counters with two different heights, and pillars that support the ceiling. You can also incorporate soundscapes. Polishing furniture can also be done for added effects.
You'll want to head back to the office to be compensated for your work and earn Poki. In turn, Poki can be used to purchase rare furniture that may be tough to find on your island.
You can also design facilities on the island like a restaurant, connect with clients with the Happy Home Network and connect with others online, use amiibo to invite clients of your choosing, use learned techniques for your own home, invite residents to your archipelago, and remodel your residents' homes.
Here's a closer look at the Happy Home Paradise DLC in Animal Crossing: New Horizons, which goes live on November 5:
Leave a Reply