Apollo Justice: Ace Attorney Trilogy release date set for January, new trailer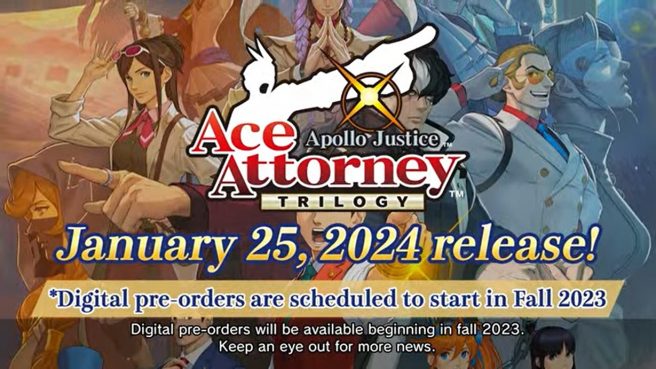 Capcom today unveiled the final release date for Apollo Justice: Ace Attorney Trilogy during the Tokyo Game Show. It will head to Switch on January 25, 2024.
Capcom first announced Apollo Justice: Ace Attorney Trilogy for Switch back in June. The company originally said it would be out in early 2024.
Apollo Justice: Ace Attorney Trilogy will include Apollo Justice: Ace Attorney, Phoenix Wright: Ace Attorney – Dual Destinies, and Phoenix Wright: Ace Attorney – Spirit of Justice with DLC special episodes packed in as well. There'll also be extras, including an orchestra hall where players can listen to music, the art library with character designs, art pieces, and the Spirit of Justice prologue anime, and animation studio.
Here's some additional information:
Prospective defense attorneys can experience Apollo's trials and tribulations to the fullest with improved HD resolution, smoother animations, all presented in 16:9 aspect ratio for the entire collection. A newly created UI will also be added to fit modern screen sizes along with enhanced menu and system features for players to fully immerse themselves in courtroom catharsis!

Apollo Justice: Ace Attorney Trilogy will be available for $49.99 and includes special items that will have players excited to fight for justice!

Animation Studio: Piece together actions, gestures, and iconic voice lines for fan-favorite characters such as Apollo Justice, Phoenix Wright, Athena Cykes, and more! Then, pair them with in-game backgrounds and music tracks, press play, and enjoy the unforgettable antics that unfold.
Orchestra Hall: Relive key courtroom moments with a total of 175 music tracks, including songs from previous Ace Attorney Orchestra Concerts and background music from each title in the collection, as well as animated chibi characters playing along to the music.
Art Gallery: Investigate behind the scenes with a collection of over 400 pieces of art, illustrations, background art, and more.
Previously Available DLC: Players can enjoy content previously released as paid DLC from titles within the collection such as costume packs and special episodes for free!
A new Apollo Justice: Ace Attorney Trilogy release date trailer can be found below.
Release Date Trailer
---
Update: Another trailer has come in, which we have below.
Second Trailer
Leave a Reply