ARMS producer on updates, more lore to tell, eSports, future of the IP, more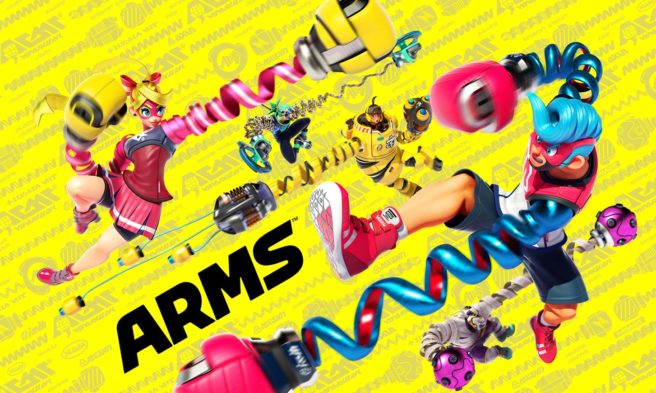 This week's issue of Famitsu contains a new ARMS developer interview. The magazine caught up with Kosuke Yabuki, the game's producer. Yabuki talked about updates (including how Springtron was an unexpected addition to the roster), lore, eSports, what lies ahead for the IP, and more.
Yabuki first said that Nintendo had initially planned to update ARMS multiple times until it was updated to version 5.0.0 by the end of 2017. But of course the team decided on the update content not only from what had been planned previously but also from player requests. It felt like polishing ARMS together with all players, so Yabuki was glad about that.
There were many minute updates not planned previously, but the major one was the addition of Springtron. The team originally planned to only add four fighters between version 2.0.0 and 5.0.0, but the Springtron idea came in the middle of that so they added him in and made the total to five. Yabuki was glad that every fighter could have their own fanbase.
Although it was already announced that version 5.0.0 was the last major update, Yabuki plans to make more minute updates so the game becomes easier to play, although he didn't specify the details on that. ARMS is going to be released in Korea soon, so he expects the number of players to increase even further.
The team doesn't like it if all strategies were one-patterned or some fighters were too strong, and Yabuki thinks the players wouldn't like it either. So the team aimed for a game balance where a lot of things could happen. They balanced the ARMS the same way they balanced fighters. They want players to try out various types of ARMS, so while each one has its own trait, they don't end up becoming too almighty. In the end everyone had some ARMS they're good at and some others they're bad at so they requested adjustments for the ones bad to them. But the team balanced the ARMS based from analyzing various data just like fighters.
The fighter who left the greatest impression on Yabuki is Spring Man, because he was the first ever character created, so he taught the hardships of creating a new character to every staff members as they gradually expanded his character settings.
Yabuki intentionally did not release fighters that require deep strategy from launch. For example, Misango would have a change in his abilities in the middle of a match. If such fighters were available from launch, it would cause people to feel that the game itself was difficult.
Yabuki aimed to create ARMS as a new versus game unlike anything before. But the versus theory collected from past games wouldn't really apply to a game with new rules. Because of this, they had to find the game balance all by themselves, which was really difficult at first. But there were also fun parts; team members would play against each other and then make adjustments from the feedback multiple times, and after they struck the right balance, staff would play versus in a very exciting fashion.
The game starts up slow for players to understand the situation easily. Once players understand the gameplay well through multiple battles, they will start fighting by using various techniques, thus increasing the game speed.
A lot of time has passed since the Wii Remote, so the technology for motion controls has evolved both hardware and software-wise. That's why Yabuki thinks they were now able to implement motion controls for expert techniques. Switch is a console that can change shape based on the player, so they don't want to limit the play style. That's why they aimed for the game to be playable equally with both normal and thumbs-up controller-holding methods. In fact, Yabuki even sees both kinds of players show up in the worldwide top rankings.
There are still many more deeper world setting aspects in ARMS that haven't been revealed yet. For example, the current Spring Man is the third to hold the name. Yabuki would like to reveal more of these unknown stories if there's the chance.
Yabuki's team thought of the ARMS tournament in the ARMS universe to be analogous to the World Cup of soccer. That's why fighters wear uniforms donned with corporate logos, and also why there are dedicated stadiums. But the team wanted to show the world setting not just with text but with illustrations, fighter models, and music.
Yabuki notes that Twintelle is very popular worldwide. He mentions the picture where she is working out and her hair doing weight lifting is very popular in particular. Perhaps that's because she looks appealing when working out.
Biff is the mascot of the ARMS fighting sport. He also acts as the liaison between the real world and ARMS world by tweeting on the official Japanese Twitter account. Biff may seem like a mysterious being to everyone in the real world, but it's thanks to him that we can delve more into the ARMS universe.
When asked what Yabuki thinks about eSports – which is currently trending – he said that word is being used with many different meanings, so he doesn't have much to say about it. As for Nintendo, they are currently still in the phase on looking at how eSports can exist in a Nintendo-like way, so currently they don't have any plans to use eSports business-wise. But Yabuki does feel that players are training hard like real sportsmen when ARMS tournaments are held. Giving the spotlights to players and teams is a very good thing in his view. After all, the main "actors" in versus games are the players themselves.
Finally, when asked about plans for a sequel, Yabuki says it's still too early for that since not even a year has passed since ARMS' release and they will still continue to update the current game. The team's stance is that they would like to talk about this topic again when they're finally in the right time and condition to be able to provide a big surprise to everyone.
Leave a Reply