Asatsugutori details, debut trailer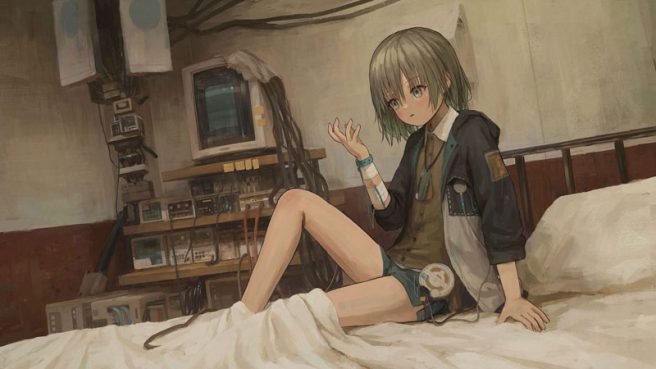 After it was first unveiled in Famitsu, Nippon Ichi Software has officially announced Asatsugutori. The "time loop investigation adventure" game has received first details as well as a debut trailer.
Here's the full roundup, courtesy of Gematsu:
About
– A quiet-sounding machine – an IV drip feed-type device on her left arm
– When Hibari wakes up, she finds herself in a strange room, where she meets seven other girls in the same situation
– An announcement is made overhead the confused girls
– "Only one girl, who survives until the end, will be able to leave the building." "Even if only for a second, we recommend you try to survive for as long as possible. Give it your all, and you may even be able to use magic."
– A few days after the girls' incomprehensible co-living begins, an incident finally occurs
– Hibari regretted not being able to stop the scene of death that occurred right in front of her
– "If only I could go back to before she died…"
– The following day, Hibari wakes up and heads to the cafeteria, only to find the girl that was supposed to be dead is still alive as she was the day prior
– The ability to travel back in time
– With this power, you can start over as many times as necessary; no one will ever have to die again
Use Time Loops to Prevent Incidents
– The player controls protagonist Hibari on an isometric map
– Acquire items and hear what others have to say while gathering information to "prevent incidents"
– Investigate the area and gather information to resolve the case
– Acquire items
– Hear what the other girls have to say
– Investigation time progresses in real-time
– The information you can obtain varies depending on the time of day
– Repeat "time loops" as many times as necessary to collect all the evidence you can find
Hibari
– The protagonist
– An ordinary second-year middle school student with no special qualities
– Although she has a helpful personality, she tends to distance herself from people she meets for the first time
– She lost her father in an accident, and fears death much more than the ordinary person
– She will fight to save everyone using the ability to travel back in time that has awakened within her
Matinee
– A mood-maker with a cheerful and energetic personality
– She expresses interest in Hibari, who is the same age as her, and accompanies her on her investigation as her partner
– She is the type that everyone loves since she can get along with anyone no matter who they are
– She was raised in a household of constant laughter, and is always smiling
– Contrary to her appearance, she is child-like on the inside, and sometimes can be found playing with Karin and Eno
Other Characters
– Other girls in the same situation as Hibari include Eno, Suzu, Touka, Karin, Fuzuki, and Komari
Game Flow
– "Investigation Parts": utilize time loops to gather information
– "Incident Prevention Parts": prevent incidents from occurring using deduction based on the information gathered during your investigation
– An incident occurs; activate your time loop ability to go back to before the incident occurred
Investigation Parts
– Investigate the area and gather information and evidence
– Since this is before the incident occurs, you can also hear what the victim has to say
Incident Prevention Parts
– Make deductions based on the information gathered in the Investigation Part to avoid the occurrence of the incident
Asatsugutori launches for Switch in Japan on November 25. A western release has not yet been announced.
Leave a Reply