Atari announces qomp2 for Switch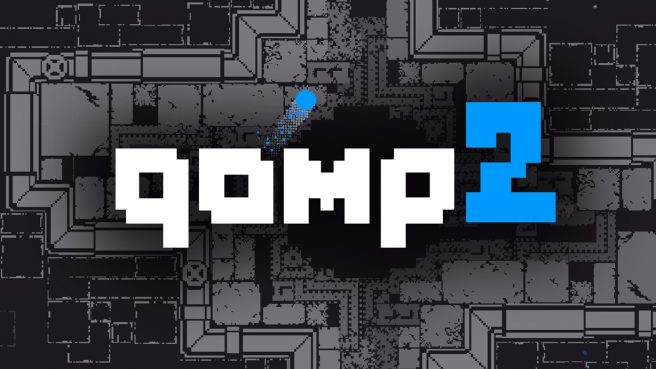 Atari today announced qomp2, a creative sequel to Pong that explores the scenario if the ball escaped the paddles. It'll be available on Switch in 2024.
qomp2 adopts the indie game qomp from 2021, with Graphite Lab handling development. Things pick up where the story left off, telling a tale of the pursuit of freedom and personal identity. There'll be classic two-button controls and a playfully simplistic setting that rings true to the classic Pong.
Here's an official overview:
qomp2 captures the simplicity of Pong by giving players only two buttons to navigate a series of labyrinthine levels packed with "harder than they look" challenges. Stepping into the spherical body of the renegade runaway, players will ping-pong their way through the dangerous, minimalistic world of qomp2. With a variety of enemies and bosses helping to mark the journey, the escapee will adventure through 30 challenging levels across four distinct worlds.

qomp2 builds on the foundations of the 2021 indie game qomp while introducing new game mechanics and a story of identity and self-acceptance. The work of an ad hoc, four-person development team led by the experimental game designer Stuffed Wombat, qomp was praised for its simplicity, brevity, bare aesthetic, and clever game design. For qomp2, Atari partnered with one of the company's favorite game studios, St. Louis-based Graphite Lab, which also produced notable Atari titles Kombinera, Mr. Run and Jump, and the upcoming Rollercoaster Tycoon Adventures Deluxe.

qomp2 stays true to its indie roots while adding new types of puzzles and enemies and an innovative new game mechanic — a second button! In addition to the original button that shifts your direction 45 degrees, this additional button propels you forward with a dash. Armed with only these two simple moves, players will put their problem-solving skills to the test as they navigate environmental puzzles while avoiding traps in order to make it to the next level.

Key Features

Cerebral Puzzling: The simple, two-button controls belie complex and compelling gameplay. Use your reflexes to think ahead and master 30 tricky levels. Hidden collectibles on the map push you to explore every inch of the creatively rich minimalist environment.

Bounce Between Emotions: qomp2 is an enigmatic story of doubt, fear, and self-acceptance, told wordlessly with simple animations, effects, and the game mechanics themselves — a surprising twist based on the classic Pong.

Surprises Galore: If the game's premise doesn't raise an eyebrow, just wait until you dive into the challenges, which get increasingly difficult as you master new aspects of gameplay. And don't worry, death is not the end in this arcade-inspired world. Quick respawn makes sure you're back in the action in seconds.

Bountiful Bosses: Four bosses block your escape at the end of each world. Use your newfound skills to master their attacks and defenses in order to move on. Much like a real game of Pong, you must be prepared to defend your position!
Atari CEO and chairman Wade Rosen said of today's news: "It's been over 50 years and the simple, joyful gameplay of Pong still captivates players and game developers. With qomp2, I am glad we're able to continue the creative and thoughtful storytelling that qomp introduced."
Find the first trailer below.
Announcement Trailer
Leave a Reply