Atomicrops gains Reap What You Crow DLC on Switch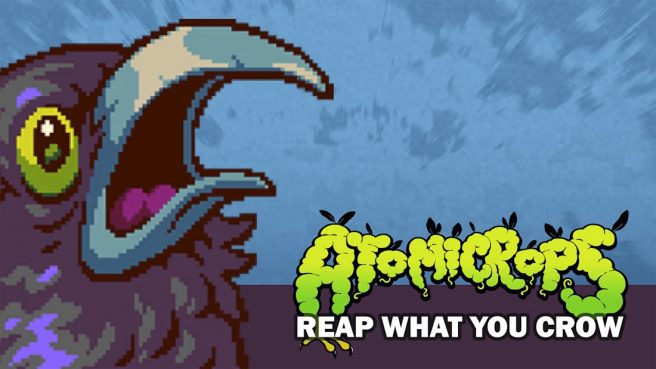 It's been a couple of years since Atomicrops made its debut on Switch, and the game is still trucking along with brand new DLC known as Reap What You Crow.
Atomicrops has previously received a number of free updates, but what's been made available this time around is paid. It adds Oregacrow as a new character, Oregano as a new plant, plus the Scythe and Leech Gun weapons.
Below is some additional information as to what's included:
Reap What You Crow sees all your hard, Atomicrops work come back to you! It also answers the age-old question of "What would a crow-person look like riding a horse with a giant scythe?" – you know, a question for the ages.

This DLC includes…

New Character: Oregacrow – Newly arrived on the farm with their cooking cauldrons in hand, Oregacrow has a particular diet that turns all dropped seeds into corn or roses. Harvest large crops to obtain increasingly higher-tier seeds & Fill cauldrons to receive unique upgrades!

New Unique Plant: Oregano – Replaces heart beets when eaten. Fill up Oregacrow's cauldrons with specific crops to gain bonus upgrades.

New Weapon: Scythe – Perfect for those that want to get up close and personal with their crops OR the angry end of your enemies. This is our first and only melee weapon which packs a ton of useful farming and combat mods. Did we mention that the scythe comes with a horse for those that upgrade?

New Weapon: Leech Gun – Have you ever thought to yourself, "Self, have you ever wondered what it would look like if a giant leech (or two) is fired like a bullet?" Question no longer. Also, ew.
Find a trailer for the The Reap What You Crow DLC for Atomicrops below.
The Reap What You Crow DLC for Atomicrops will typically cost $4.99. However, there's a slight launch discount, bringing it down to $4.49.
Source: Switch eShop
Leave a Reply