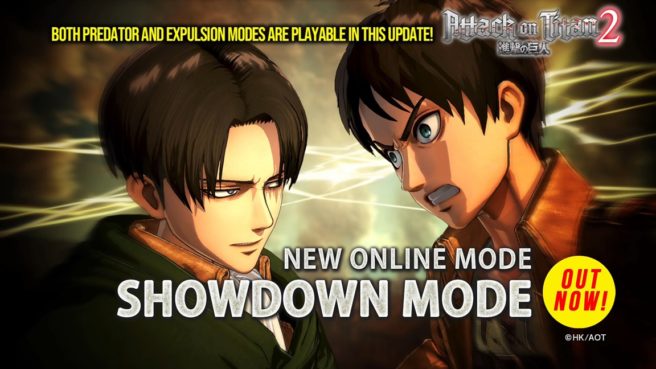 Attack on Titan 2 is continuing to receive support from Koei Tecmo and Omega Force. A new Showdown Mode has been added, which involves subjugating the opposing player's Titans.
Koei Tecmo has been adding new content to Attack on Titan 2 since launch. Other new online modes include Predator and Expulsion.
We have more information about Attack on Titan 2's Showdown Mode below plus a trailer.
Introduction

Subjugate the opposing player's Titans! Each player will be assigned a team of Titans that the opposing player must subjugate to cause damage. Increase the damage dealt by skillfully severing the Titans' limbs before subjugating them or capture your own Titans to recover your HP gauge. Reduce the opposing player's HP to 0 or ensure your own HP is higher than your enemy when the timer runs out to win the game.

The Burst Gauge

Subjugate Titans to fill your Burst Gauge. Once filled, the player can enter Burst Mode, greatly increasing their attack power for a period of time.
Leave a Reply