Attack on Titan 2 gets brand new Expulsion Mode, another new mode planned for May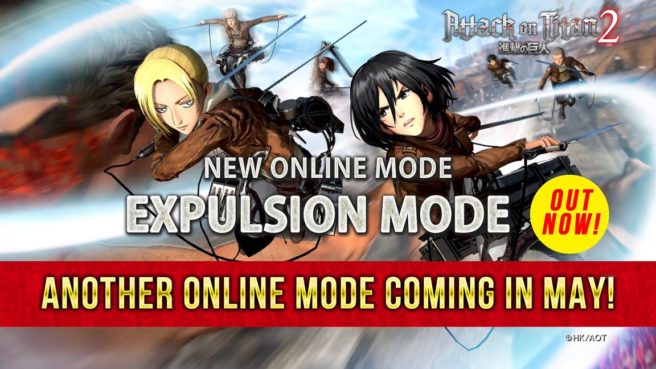 A brand new mode has been added to Attack on Titan 2. Koei Tecmo and Omega Force are introducing Expulsion Mode, which boils down to free-for-all.
Here's an overview:
Compete with two-to-six friends online. Choose from 10 preset skills and equipment loadouts to see who can defeat the most titans in the time limit. Earn points for speedy eliminations, steal kills from your friends, or use your skills to out manoeuvre them!

How do you access this new mode? Go to Another mode and you'll notice NPC's in front of you. Go to the white tent on the right side and you can access the new Multiplayer Mode at the NPC with a globe icon. Try Expulsion mode along with Annihilation mode and Predator Mode.
Koei Tecmo isn't done with Attack on Titan 2, as another mode is lined up for May. For now, we have a trailer showing Expulsion Mode below.
Leave a Reply