Attack on Titan 2: new free update coming on August 9th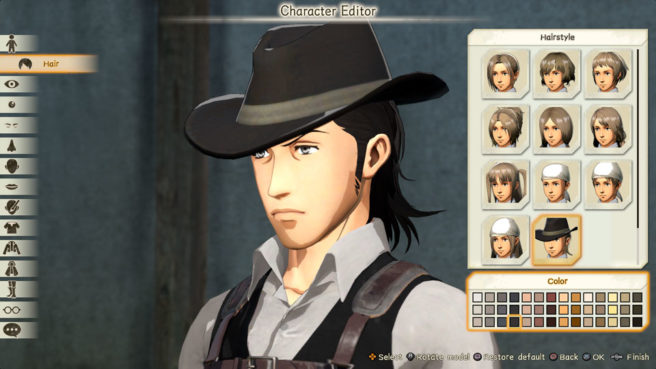 Season 3 of the Attack on Titan anime started airing yesterday; Koei Tecmo took the opportunity to announce that a new free software update will be released for Attack on Titan 2 on August 9th. The update will add a variety of new features:
Kenny's hat will be added as an option in character creation; Kenny is a new character from season 3 of the anime.
New difficulty option "Heaven" will be added: when playing on that setting, consumables like gas and blades, as well as battle items such as smoke signals, have unlimited usage.
Original characters can equip some of the unique skills of the characters from the anime, allowing players to assemble all the skills with powerful effects. Skills are learned after beating the anime character with that skill after that character has reached level 10:
Mikasa – Ultimate Blade Art: Greatly reduces blade durability losses on sufficiently speedy attacks.
Armin – Natural Tactics: Allied soldiers' attack power increases greatly as more soldiers fight together.
Jean – Strength of Unity: Attack power increases greatly as more soldiers fight together.
Conny – Easily Pleased: Greatly increases the damage of the next attack after acquiring a Complete Elimination medal.
Sasha – Survival Instincts – Acquire multiple items when linking up with allied soldiers.
Christa – Goddess Grin: Acquire multiple items when linking up with allied soldiers.
Levi – Wings of Freedom – Press button repeatedly while attacking to perform a powerful multiple-hit attack.
Hange – Research Heart: Greatly increases damage done by attacks using tools.
Erwin – Devotee: Greatly increases attack power while a battle alert signal is raised and increases length of time effects last.
You can now practice the online-only modes "Showdown" and "Expulsion" in an offline setting by yourself. Also, the completion reward for Titan Biological Research Report has been changed from Titan Research Room EXP to a Generic Statement of Deployment. It's now also possible to carry out a Titan Biological Research Report without using any Wings of Freedom.
Finally, there are some other minor improvements to the overall game experience:
Functionality to choose the in-battle background music has been added to the selection screens for scout missions and past missions. Select from all unlocked BGM listed in the gallery.
Multiple pieces of equipment can now be developed at once. Also, up to 30 materials can be chosen at a time when reinforcing equipment.
Generic Statements of Deployment have been added to the regiment store.
It is now possible to skip certain camerawork during battle.
Leave a Reply