In what seems to be a huge screw up by the people at Capcom, on their latest Wii game Okami, The IGN website logo seems to be just visible on the front cover box art. Did they not have their own artwork to work with or something?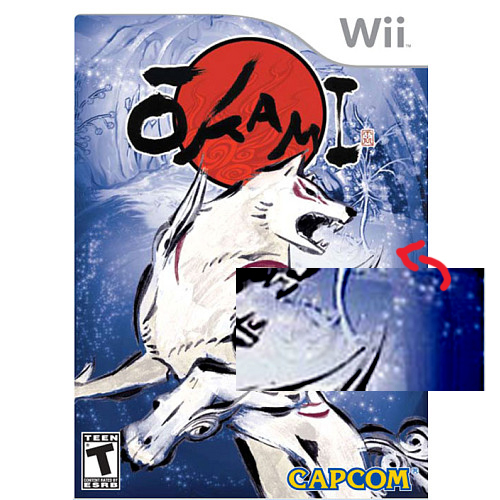 Nintendo DS – 587,600
Wii – 432,000
PlayStation 2 – 351,800
PlayStation 3 – 280,800
Xbox 360 – 254,600
PSP – 243,000
Nintendo continues to impress with the sales of both the Nintendo DS and Wii taking both the top spots over all of its competitors. It should be interesting to see this month's sales with the release of Super Smash Bros. Brawl.


– Disgaea DS: ????????? – Prince of the Demon World and the Red Moon
– Mario Kart Wii: choose between auto/manual drift, 24 Characters in total/12 revealed this issue
Mario, Luigi, Wario, Waluigi, Toad, Peach, Baby Mario, Baby Peach, Bowser, Donkey Kong, Green Turtle and Yoshi
– Link's Crossbow Training | 05/01 | 3800YEN
It'll certainly be interesting to see how Disgaea, a popular series which appears mostly on Sony consoles (And just recently on the PS3 with Disgaea 3) turns out on its debue for the Nintendo DS handheld.


1 (1) Super Mario Bros 3
2 (2) Mario Kart 64
3 (3) Super Mario Bros
4 (5) Super Street Fighter 2
5 (6) Super Mario World
6 (5) Super Mario 64
7 (9) Bomberman 93
8 (8) The Legend of Zelda : Ocarina of Time
9 (10) Super Mario Bros 2
10 (7) 1080 Snowboarding
11 (13) The Legend of Zelda : A Link to the Past
12 (15) Pac-Man
13 (14) Paper Mario
14 (16) Sonic 3
15 (12) The Legend of Zelda
18 (18) Sonic
17 (19) Bubble Bobble
18 (17) Pokemon Snap
19 (E) Donkey Kong Country
20 (11) Lords of Thunder