Aztech Forgotten Gods delayed to Q1 2022, new trailer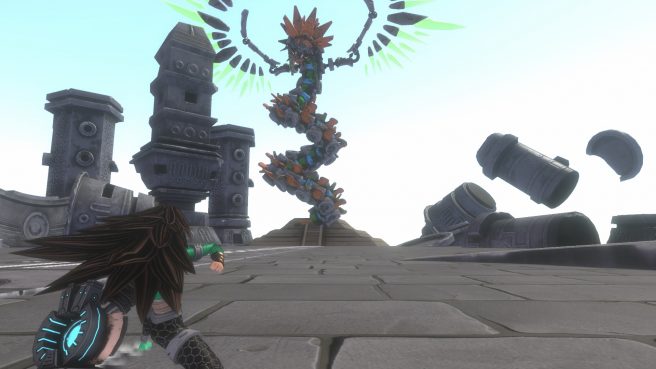 Aztech Forgotten Gods, the Latinx-Futurism cyberstone colossus fighter from Mulaka developer Lienzo, is experiencing a delay. It's now on track for Q1 2022.
Aztech Forgotten Gods was announced for Switch earlier this year. Originally, it was planned for Fall 2021.
Explore and fight for Tenochtitlan, the jewel of the Aztec Empire, in a world untarnished by the European superpowers. Left untouched for centuries, the city and its residents progressed technologically, steadily pushing into the future. Now, an unfamiliar enemy awakens to threaten Tenochtitlan, leaving the cybernetically-augmented heroine Achtli standing between her city's survival and utter destruction.

Guide Achtli as she masters Lightkeeper, an ancient prosthetic weapon powered by mysterious energy. Propel Achtli to incredible heights and deliver shattering blows to gods as she soars through her adventure. Use Lightkeeper to grab onto flesh-shredding rails, allowing Achtli to clear chasms and close the distance on her foes in mere seconds.
While today's news about the delay will certainly come as a disappointment for some, Lienzo is looking to ease the pain a bit with a new trailer for Aztech Forgotten Gods. You can give it a look below.
Aztech Forgotten Gods will offer English, Spanish, German, French, Italian, and Russian language support at launch. Keep track of the game through the official website here.
Leave a Reply