BATS: Bloodsucker Anti-Terror Squad gameplay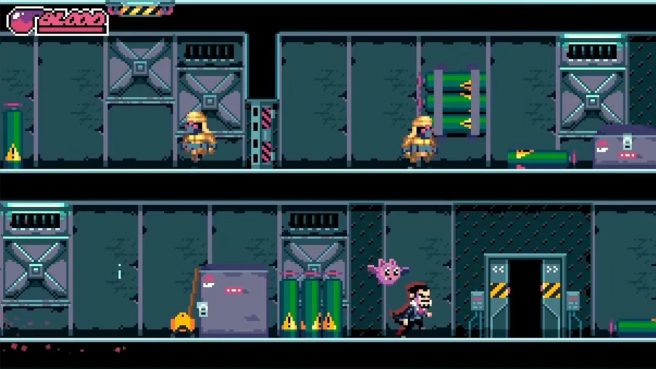 BATS: Bloodsucker Anti-Terror Squad, a 2D action game, made it to Switch this week and we now have gameplay. A video is available coming in at 17 minutes with a good chunk of footage.
Check out the following overview on BATS: Bloodsucker Anti-Terror Squad for more details:
Based on the coolest animated TV show that never was, BATS stars Count Bloodvayne and the rest of Bloodsucker Anti-Terror Squad as they battle Scorpion Supreme and the ruthless terrorist organization, STING! (Syndicate for Terror and Illegal Non-Government, voted the world's #1 terrorist organization.) Did you ever want GI Joe with vampires? Well now you can have it, buddy!

BATS is a throwback to the action sidescrollers of the 16-bit era, with a modern twist. It's a fast-paced, arcade brawler-shooter-slasher that rewards precision play and pixel-perfect timing. Play like a pro or take your time running around killing terrorists, slicing off heads and sucking up blood at your own pace. It's up to you! Either way, you're gonna have a bloody good time.

Gameplay

There are five hand-crafted levels of STING's fortress for the player to explore. Each level is filled with dangerous traps, deadly hazards, and an endless supply of Scorp soldiers to slice and dice into bloody bits.

As players progress through the levels they will collect blood droplets, which can be used to activate super deadly vampire powers, making the wholesale slaughter of disposable soldiers a breeze!

But watch out, there's still plenty of swinging saw blades, terrorist zombies, and electrocution chambers to navigate. And don't forget the STING sauna!

Key Features

Five levels to master
Five characters to unlock
Boss Rush mode – test your skillz!
Speedrun mode – go for the record!
Realistic BloodEFX technology
Historically accurate vampire powers
Hilarious and unfortunate deaths
Thousands of screams
This week's gameplay for BATS: Bloodsucker Anti-Terror Squad on Switch can be found below.
BATS: Bloodsucker Anti-Terror Squad is now live on the Switch eShop. English is its only supported language.
You can find the official website for BATS: Bloodsucker Anti-Terror Squad here.
Leave a Reply