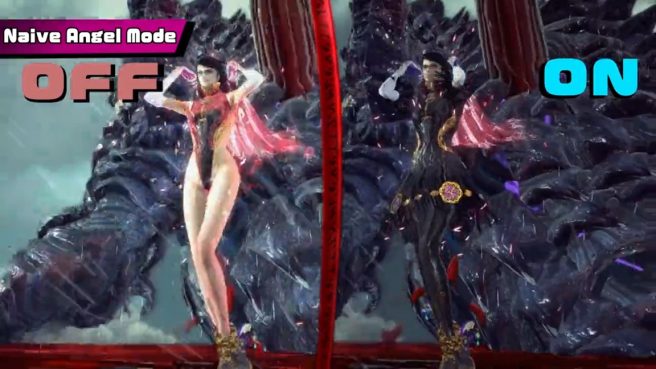 PlatinumGames has revealed more information about Bayonetta 3, and we now have word that the game will include a Naive Angel Mode.
Bayonetta has always been a mature series. But with this new feature, PlatinumGames says "more people can fully enjoy it" and "you can play right in the living room without having to worry about what's on screen." When the option is on, characters will show a little less skin as they'll be more covered up. It goes without saying, but this is completely optional.
PlatinumGames provided a first look at Naive Angel Mode in Bayonetta 3 over on Twitter, which includes a comparison with the setting off and on. You can give it a look below.

https://twitter.com/platinumgames/status/1547216944470069248

Bayonetta 3 launches for Switch on October 28, 2022. Find the new trailer for the game and latest batch of details here.
Will you be playing the game with Naive Angel Mode turned off or on? Let us know in the comments below.
Leave a Reply