Bit Boy!! Arcade updated to version 1.1 in Europe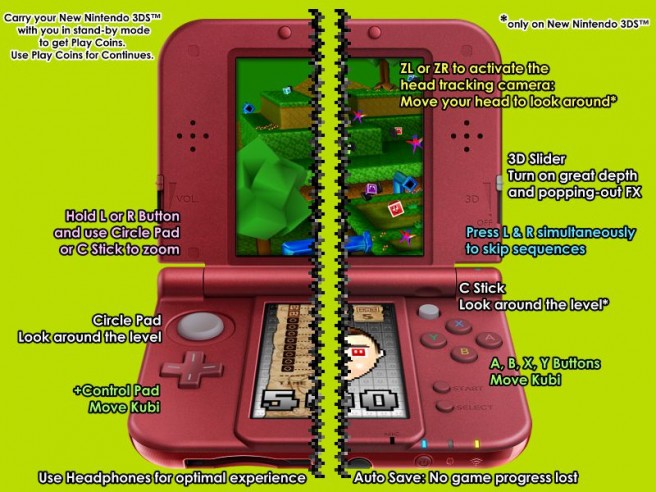 A 1.1 update for Bit Boy!! Arcade is now available in Europe. This version adds several elements and features, including a new level, cinema mode, C-stick support for the New 3DS, and more.
Developer Bplus announced the update news on Twitter just a short while ago:
http://t.co/pNuTvwBaAh UPDATE1.1 out in EUROPE NOW NewLevel,HeadTrackingCam,CINEMA,Monsters #gamedev #indiedev #ITRTG pic.twitter.com/tmkNYwKZ5X

— BplusGames.com (@BplusGames) May 2, 2015
Here's the full rundown of Bit Boy!! Aracde's 1.1 update:
Bit Boy!! ARCADE Version 1.1
– New Title Screen.
– Completely new Bonus Level Round Hill offers 3 phases to play and comes with a brand new music track.
– New Cinema Construct for watching all the sequences again.
– Improved Camera Control: Look around using the Circle Pad or C Stick (New 3DS only), Hold L- or R-Button to zoom.
– New intuitive Head-tracking-Camera activated by ZL/ZR: Look around the corner by moving your head. (New 3DS only)
– 60 frames/second support on main screen and in the Construct level hub. (New 3DS only)
– New ShadowMan design and animation for a better visibility.
– Get an 1UP extra life by reaching a score of 400.000 in a phase.
– The EASY MODE can now be activated at any time without having to lose 2 lives in a phase.
– After you have beaten the boss you can now enter any single Rainbow Run or Boss phase.
– New info screen during sequences recommends use of headphones and informs about how to skip the sequence.
Leave a Reply