Blue Reflection: Second Light details and screenshots – world, Shiho Kasuga, Kokorotope, RefleNavi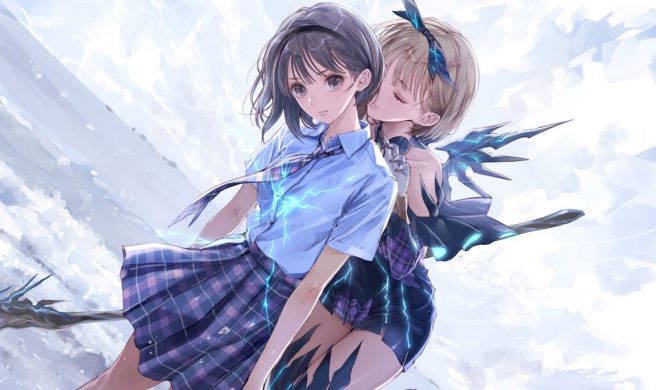 Koei Tecmo and Gust have prepared a new batch of details and screenshots for Blue Reflection: Second Light. Today's update covers more of the game's world, new character Shiho Kasuga, the "Kokorotope" area, and the group message character "RefleNavi."
Here's the full roundup, courtesy of Gematsu:
World
– One day, a new place named "Kokorotope" appeared in this world where there was only a school and water
– This mysterious space was filled with randomly placed objects from the real world
– Could this place also contain clues about this world? A mysterious light shined while exploring Kokorotope…
– It was a "Memory Fragment"
– Once Ao and company touched it, Kokoro Utsubo's memories began to return little by little
– Apparently, the Memory Fragments in this space are related to Kokoro's memories
– When she remembered something important, a new girl who Kokoro calls Shiho appears in this world as if in response to her memories returning
– What is Kokorotope? And just what is this world? It all continues to remain a mystery to the girls
Shiho Kasuga (voiced by Emiri Suyama)
– A girl who appeared in front of Ao and company after a certain event
– She is a kind and serious honors student
– Looks out for others and is good at housework
– While she also lost her memory, Kokoro seems to know her
– Shiho Kasuga is one of the key persons connecting the stories of Blue Reflection Sun (iOS, Android) and Blue Reflection: Second Light
– With new members joining the fray, the school will become livelier
– With school remodeling projects, cooperative cooking, and more, there is a lot of fun to be had, even if you have lost your memory
Kokorotope
– A mysterious space that exists outside the school
– Ao and company named it as it appears to be a biotope of the mind
– By exploring Kokorotope, you can get items necessary for the girls' livelihoods such as ingredients and crafting materials
– Memory Fragments are also scattered throughout Kokorotope
– Collect them to get a glimpse of some of the girls' forgotten memories, which will act as a key to solving the world's mysteries
– Kokorotope also has various obstacles and monsters
– A powerful boss monster awaits in its depths, and stands against the girls who are trying to solve the mysteries of this world
RefleNavi
– On the day that Kokorotope appeared, someone named "RefleNavi" suddenly appeared in the girls' smartphone group message
– This gives Ao and company the information they need to live, but also has a will of its own, willfully listening to the girls' conversations and warning them not to go near Kokorotope, which is somewhat eerie
– It also helps Ao and company out when they have troubles living in this world, and informs them about Kokorotope, but its purpose and identity are shrouded in mystery
Blue Reflection: Second Light is slated for October 21 on Switch in Japan. A western release will happen at a later date.
Leave a Reply