Blue Reflection: Second Light details and screenshots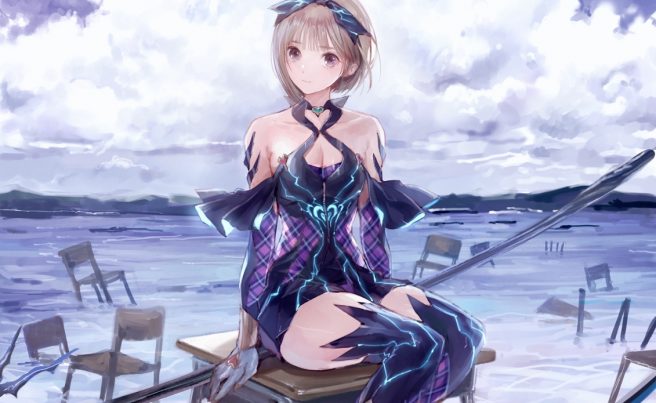 Blue Reflection: Second Light received its first trailer today, and Koei Tecmo and Gust have now followed up with more on the game. A fresh batch of details and screenshots are in covering the world, systems, and characters.
Here's the full rundown, courtesy of Gematsu:
World
– In this summer setting, one girl wandered into this world as if completely abandoned
– That girl's name is Ao Hoshizaki
– In an isolated school, there lived three girls who lost their memories
– The only thing they knew about each other was their names
– Although perplexed, Ao lives a strange life in cohabitation these girls to find clues that can lead her back home to her world
– Then one day, a path leading to a new landscape suddenly appears in a world previously made up of nothing but a school and the water around it
– Ao and the girls decide to follow it
– At the end of the path was a strange place where familiar-looking things existed in irregularity
– Although confused, they walked forward in search of answers
– It was then that they encountered a monster for the first time
– Caught in a pinch, the girls came into possession of a mysterious power
– A world trapped in summer, and girls who have lost their memories
Systems
– Even in an extraordinary world, the girls will work together to enrich their lives and find enjoyment
– As Ao and the girls deepen their bonds, they will draw closer to clues about this world's mysteries and their lost memories
– As the girls live together, their personalities and unexpected natures will gradually come to surface
– By strengthening the connections that bind their hearts, you may even unlock new powers that can be used in battle
– Depending on who you craft with, the effectiveness and quantity of the final product will vary
– Your friends may also ask you to build a certain kind of facility, and you can visit the facilities you have built together
– There may even be some unexpected facilities
Ao Hoshizaki (voiced by Kanako Yanagihara)
– A girl who lives an extremely normal life
– After failing her final exams, she attends summer school for supplementary classes, but ends up lost in an unknown world
– There she meets Kokoro, Yuki, and Renya, and works with them to find a way to return home to her world
Kokoro Utsubo (voiced by Tomoyo Takayanagi)
– A girl Ao meets for the first time in another world
– She does things at her own pace and is always somewhat absent-minded. She has a gentle heart and treats Ao with kindness after her sudden arrival
– She lost her memories, and it is unknown whether she is originally an inhabitant of this world, or if she wandered into this world like Ao
Yuki Kinjou (voiced by Yuu Serizawa)
– A girl living at the school with Kokoro and Renya
– A cheerful and active girl who is always full of spirit
– The mood maker of the group, she lives each day looking for enjoyment in the midst of a crazy situation
– She also lost her memories
Renya Miyauchi (voiced by Maki Kawase)
– A girl living at the school with Kokoro and Yuki
– She tends to have a negative outlook on things and often speaks harshly, but is kind at heart
– She always takes a step back to look at the situation as a whole, and is the one who intervenes when the other members behave recklessly
– She also lost her memories
Hinako Shirai (voiced by Yuuki Takada)
– A girl who appeared in front of Ao and friends after a certain event
– Once a ballet dancer with a promising future ahead of her, she injured her leg and now no longer dances ballet
– She also lost her memories
Concept
– Mel Kishida returns as the character designer
– Many unique girls will appear
– The story will depict their conflicts, friendship, and youth as they struggle in an unknown world
Blue Reflection: Second Light is due out for Switch in Japan on October 21. It will follow in the west at a later date.
Leave a Reply