Brawlhalla celebrates fifth anniversary with new in-game event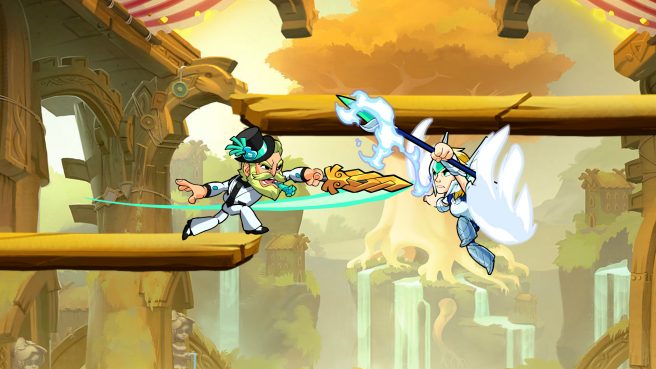 The free-to-play platform fighting game Brawlhalla is now five years old. To celebrate, Ubisoft and Blue Mammoth are kicking off an in-game event with new colors for Legends, a new Skin for Legend Bodvar, a new Podium, a time-limited Emote, and more.
The event includes the following items:
– Gala Colors, purchasable for all Legends and available for 3000 Gold or 20 Mammoth Coins each.
– Gilded Deco Podium, a brand-new Podium that features animation and sound effects, purchasable only during the event for 240 Mammoth Coins.
– 5th Cake-aversary, a brand-new time-limited Emote purchasable only during the Event for 120 Mammoth Coins.
– Ritzy Bodvar Skin for Legend Bodvar available for 140 Mammoth Coins and comes with two Weapons Skins.
– New effects, for gravity canceling and more, added as a free update with the patch and can be tested in the Experimental 1v1 queue and custom games.
– Updated Base Skin art for Legends Sentinel and Thatch added as a free update with the patch that also updates their Skins to match their new faces.
And here's a trailer:
Brawlhalla is available for Switch via the eShop. Since launch, the game has seen more than 50 million players worldwide.
Source: Ubisoft PR
Leave a Reply