Brawlhalla offering early access sign-ups on Switch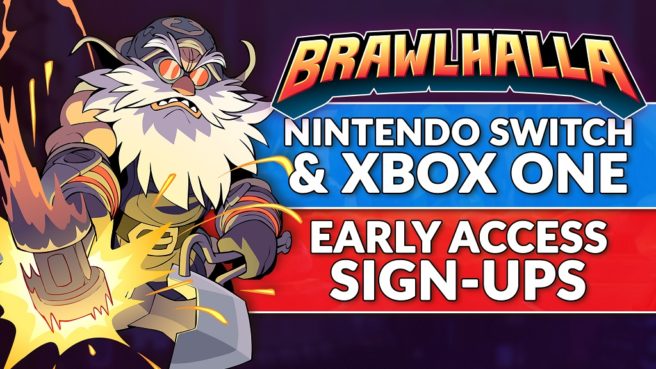 Ubisoft and Blue Mammoth Games are putting Brawlhalla on Switch on November 6. But if you'd like to give it a try early, that might be possible. That's because fans now have the chance to register for early access.
Those who are selected will receive a follow-up email sometime after registering. Everything earned will carry over to the final release.
Here's an FAQ outlining all of the pertinent information:
Will I keep all my progress and unlocks after launch on November 6th?

Yes! Everything you unlock and every level you gain will stay on your account.

How will I know if I got accepted into Early Access?

Once you sign up, you will receive a confirmation email.
If selected, you will receive a follow-up email when Early Access begins.
If you don't get selected don't worry, you can still play Brawlhalla on Nintendo Switch and Xbox One on November 6th

When does Early Access start?

Very soon! Keep an eye out before November 6th!

Can I sign up for both Xbox One and Nintendo Switch Early Access?

Will I need a Ubisoft account to sign up for Brawlhalla Early Access?

You will need one to sign up for Early Access and receive your email confirmations and codes.
Brawlhalla does not require a Ubisoft account to play.

I play on Xbox One and my friend plays on Nintendo Switch. Can we play online together?

Currently crossplay is not supported.

Can I play Brawlhalla without a Nintendo Switch Online membership?

Yes! A subscription to Nintendo Switch Online is not required to download or play Brawlhalla.

What happens if there's a bug or a crash?
Fans can register for early access to Brawlhalla here.
Leave a Reply