Cadence of Hyrule update out now (version 1.4.0), patch notes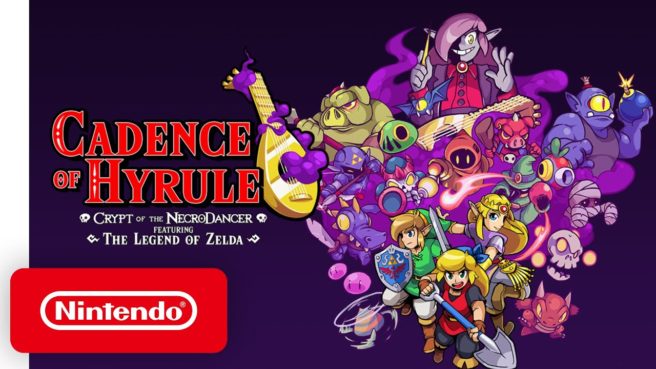 Alongside its new Symphony of the Mask DLC, Cadence of Hyrule has been updated to version 1.4.0. A couple of changes and bug fixes have been implemented alongside the latest content.
Below are the full patch notes:
PATCH NOTES 1.4.0

– New character: Skull Kid
– New game mode: Skull Kid story mode
– New game mode: Puzzle Mode
– New game mode: Arena Mode
– 5 new music tracks
– 2 new dungeons
– New towns and overworld areas
– New tilesets, enemies, items, traps, and more!
– Added a projectile effect to Link's Spin Attack when at full health
– Changed Zora enemies to breathe ice instead of fire
– Changed the Tingle Tuner to always play a sound regardless of the console's rumble settings

BUG FIXES

– Fixed an issue where helper characters could be stuck with no weapon in the fight against Ganon
– Fixed some cases where multi-tile enemy attacks could hit the player unfairly on stairs
– Fixed the timing of some multi-beat abilities (like the hookshot) in 2P fixed-beat mode
– Fixed some bugs related to having the shopkeeper re-appear in dungeon mode after having been defeated
– Fixed some exploits where Impa could escape the map using her vanish ability
– Fixed some localization issues
– Many other bug fixes and balance changes
Thanks to Cameron for the tip.
Leave a Reply