Capcom on choosing Ultra Street Fighter II for Switch, different features, character additions, more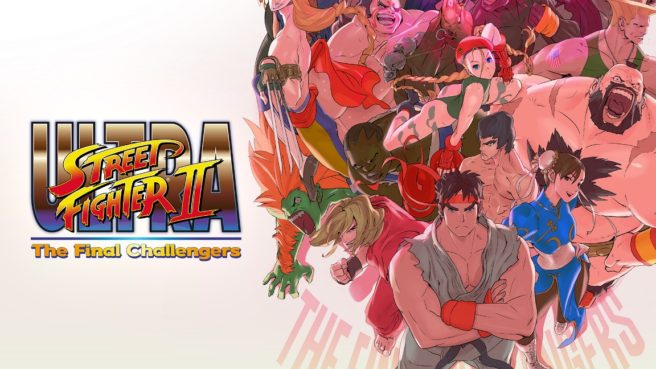 A recent issue of Famitsu contained an interview about Ultra Street Fighter II: The Final Challengers. The magazine caught up with assistant producer Tomoaki Ayano to learn more about the upcoming Switch game.
Ayano started out by discussing why this particular title was chosen for Switch. He explained that it's Street Fighter's 30th anniversary, so the thinking here was to provide an environment for longtime fans who have been supporting the series and want to play Street Fighter again as a way of saying thanks. Right at that time, Switch came into the picture. When thinking of a Street Fighter game that was on Nintendo consoles and very popular among the generation who are now parents, Street Fighter II came to mind.
One of the concepts is making Ultra Street Fighter II enjoyable for both parents and children. With Switch, the Joy-Con can be used for two-player multiplayer right out of the box. This is just like the original game on SNES.
Ultra Street Fighter II supports all three modes on Switch: TV, tabletop, and handheld. It will run at 60 frames per second like Street Fighter V. When playing on a television, it will have full HD while it'll be 720p in portable form.
To reiterate, there are two types of graphic styles in this game: the good old pixel graphics (with the same resolution as the previous era) and a renewed visual version (with wide-screen resolution).
Ultra Street Fighter II has a character color edit feature which allows players to freely edit the character colors. However, there are some restrictions. If there was too much freedom in editing, people could end up either making the costume colors the same as the skin, or have them pitch black or blend in with the background.
In the "Way of the Hado" mode, players control Ryu in a first-person view to beat enemy Shadowloo soldiers. The biggest point here is combining the motion controls and buttons of the Joy-Con from both hands to unleash special moves like Shoryuken and Shinku Hadoken.
For examples of motions, pushing both hands forward will launch a Hadoken, performing an uppercut with one hand will execute a Shoryuken, and bending both hands horizontally will unleash the Tatsumaki Senpukyaku. Note that for the last move, the screen does not spin around.
The moves can be performed even with just slight movements. However, the detection will be improved if the player acts with a greater emphasis.
Another new feature worth mentioning is the co-op mode where 2 players fight a strong enemy together. Ayano thinks the older generation should remember a famous scene from the Street Fighter II movie that can be reenacted here.
Other than that, there is the previously-mentioned gallery mode which contains over 1,400 illustrations taken from the official Street Fighter Artworks book. The pictures are put in with 250dpi so the fine print can be read too when zoomed in.
When asked about the new characters Evil Ryu and Violent Ken, Ayano said first that Street Fighter fans should be familiar with Evil Ryu who has appeared in the Street Fighter IV games. Evil Ryu has less HP and more attack power than the normal Ryu, and he also has unique special moves like Ashura Senku. Likewise, Violent Ken also has less HP and more attack power than the normal Ken. He also has a high-speed movement technique named Rasetsu Kyaku.
While Violent Ken has appeared in spinoff games and anime, this marks the first time he's appearing in a main numbered Street Fighter title. Rasetsu Kyaku is a special move that has a unique trait in which it only does high-speed movement.
During the Street Fighter II era, there were no such type of special moves, and at that time it was all "Special Moves = Attack". So the new characters added will feel like the only ones coming from a different generation.
While Capcom is basing the gameplay on Street Fighter II Turbo HD Remix, they are also implementing further rebalancing, such as adding a system where players can tech throws, and adding a "simple input" that allows players to unleash special moves easier. Touch controls are included as well that can be used to unleash special moves, so beginners can also play without worry.
The team is still working on the network system right now. There are parts that are unknown until the game is actually released. That being said, they have been proceeding with firm support from Nintendo, so online versus should be fine enjoyable if the environments (network, etc.) are well set up.
Ayano closed by saying how he'd like Ultra Street Fighter II to be a game for parents and children while reminiscing on the memories of the original Street Fighter II. He'll also be glad if it becomes a good opportunity for people to become aware of the current state of eSports. Furthermore, since 2017 is the series' 30th anniversary, Capcom is planning to deliver various anniversary projects which starts with the release of this title.
Leave a Reply