Cat Cafe Manager "Harvest Stories" update out now, patch notes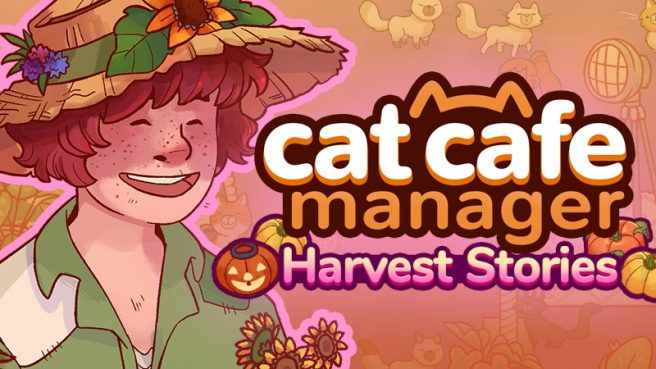 Cat Cafe Manager just received its second major update, which is known as "Harvest Stories".
Today's update revolves around about adding more story and taking your cat cafe outside. There's a mix of other features, balance adjustments, and fixes as well.
The full patch notes for the Cat Cafe Manager "Harvest Stories" update are as follows:
NEW FEATURE: Friendship Furniture

More story! Adding over 17.000 words of more story to Cat Cafe Manager! As you reach the 3rd Shrine renovation event, you will meet a new character, Hoover, who opens theCuriosities Shop, where you can buy Friendship Furniture, a new type of furniture.

Place Friendship Furniture in your cat cafe, and your friends the Regulars will sometimes come over to hang! Telling ghost stories over the Campfire, playing Kittens & Kaverns at the Game Table, or learning more about the valley's history at Gran's Photo Book are just some examples of the many new stories you can experience!

NEW FEATURE: Build Outside

Build outside! Take your cat cafe outside with the new Outside Floor Tiles.

These new floor tiles allow you to place furniture outside. Have your guests enjoy a cat's companionship out there in calm mother nature. These new furniture sets are perfect for building outside. Speaking of which…

NEW CONTENT: Furniture Sets

New Furniture Set: Spooky Harvest ! Bring spooky season to your cat cafe with this new furniture set! Use spooky decorations to celebrate halloween, or have your guests chill outside amongst the cornfields and freshly harvested crops.
New Furniture Set: Summer Beach! This new furniture set is perfect for giving your cafe those summery vibes, or building a relaxing outdoor picnic hang for your guests and cats.

MORE!

FEATURE: Added a re-adopt button to the cat roster, allowing you to take cats back in after the main story has finished.
BALANCE: Eased up recipe and ingredient cost in the late game.

FIX: Fixed visual bug with the diner floor

FIX: Added potential fix for red walls/furniture sometimes popping up after playing a long time

FIX: Fixed crash with some ghost furniture messing up save games

FIX: Added missing Diner tag for Deep Frier and Stove

FIX: Fixed crash when switching shop tabs right after entering a shop
All players on Switch can download the Cat Cafe Manager "Harvest Stories" update now.
Leave a Reply