Children of Morta – full patch notes for Setting Sun Inn update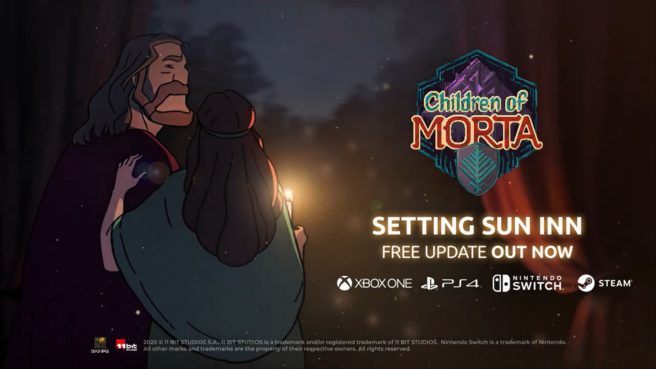 Towards the end of last week, Children of Morta received a big Setting Sun Inn update. Players can now access a New Game Plus mode, new Family Events and Quests in the Dungeons, and more.
If you're interested in learning more about the update, check out the full patch notes below. We have a proper breakdown on everything that's new as well as balance changes.
Added New Game Plus mode:

After completing the game, players can convert their completed save slot to NG+ slot in save slot menu
New Game Plus slots will have "+" icon and slightly different highlight effect

In the NG+ mode, players can play Children of Morta's story from scratch. They will lose:

Unlocked areas and dungeons.
All quests progress.
They will keep:
Unlocked characters.
Character skill tree progress.
All resources
Ben's workshop upgrades.
Book of Rea upgrades.
The following changes also apply:
Noticeable increase in the game's difficulty.
Character skill points cap increased.
Level cap of upgrades of Ben's workshop increased.
Level cap of upgrades of Book of Rea increased.

New Save Slot Menu – Save Slot menu now have slot setting button and a sub-menu for each slot with new features:

Convert to New Game Plus for completed saves
Copy/Paste save slot
Delete save slot

Added 20 new Cutscenes :

Mission update C1 (Dungeon: Cave 1)
Mission update C2 (Dungeon: Cave 2)
Mission update C3 (Dungeon: Cave 3)
Mission Update W1 (Dungeon: Wind 1)
Mission Update W2 (Dungeon: Wind 2)
Mission Update W3 (Dungeon: Wind 3)
Mission Update M1 (Dungeon: Magma 1)
Mission Update M2 (Dungeon: Magma 2)
Margaret staff (Home: Wind 2)
Night guards (Home: Magma 2)
Forest- All For One (Start of Forest level)
Ben Curses (Home: Wind 2)
Mary asks (Home: Wind 3)
The dried well 03 (Home: Magma 2)
People Wrap in Web (Dungeon: Cave 1)
At the first threshold (Dungeon: Cave 1)
Corpse Spawn event (Dungeon: Cave 1)
Margaret Investigation 1 (Dungeon: Cave 1)
Margaret Investigation 2 (Dungeon: Cave 2)
Margaret Investigation 3 (Dungeon: Cave 3)

Added 8 new HIEs (Home Interactive Events)

Dried Pond (Magma 1)
Lucy sees Margaret by the tree (Magma 2)
John and Mary talk (Magma 1)
Entertaining the new born child (Magma 1)
Kevin cares for his mother in sick bed (Wind 3)
Family Dinner, Eat and Pray (Cave 3)
Mark Studies (Cave 3)
Mark Comes to Know the Truth (Wind 2)

Added 26 new Home Idles:

Kevin swimming in pond
StarGazer stand on veranda
StarGazer stand near the pond
Cat in training ground
Cat playing in house
Cat on swinging tree
Cat on veranda
Margaret book reading
Margaret napping
Joey cutting wood
Joey barfix training
John piping and looking at the aquarium
John piping and looking at the hall painting
John piping on veranda
Mary book reading
Hope sleeping in front of fireplace
Ben fixing music box
Ben looking at horizon on veranda
Ben Napping
Wolf stand in training room
Wolf sit on the cliff
StarGazer with Cat
John and Ben talk on veranda
Wolf and Cat on veranda
Wolf and Cat on well
Wolf and Cat on tree of life

Added new in dungeon Family Events:

Family Companion Quests:
Wind: Rescue a family of Barahut's people
Magma: Rescue the workers
Magma: Help the stranger

Family Quests:

Cave: Mary(after birth) helping refugees x3
Wind: Mary(after birth) helping refugees x3
Magma: Ben fixing robots x2
Magma: Ben fixing device x3

Added Side Quests Traits:

Wolf Cub: After completing the quest, Ryker (wolf cub) will appear before boss rooms and aid Bergson with the healing potion
Star Gazer: After completing star gazer quest, the Siege will appear in shop rooms and aid Bergsons with a Gemstone
Doll Maker: After rescuing all the automatons, They will appear at the start room of each area and aid Bergsons with a Charm

Balance Changes:

Lucy Rage ability range and damage buffed
Joey Secondary attack damage buffed
Players interaction with shrines and golden chests now can transition to evading to make it more responsive
Tree of Rea Luck upgrade nerfed
Tree of Rea Divine Mastery upgrade nerfed
Divine Performer gold bonus 2x -> 2.5x
Swift Shanks MoveSpeed also apply to Sheathed
GemStone Hungry max stack reduced from 20 to 15
Pulsating Orb cooldown decreased from 30 to 20
Totem of Defiance Pushback speed increased
Spiral of Doom Damage Reduce 1.5 -> 1 cooldown increased
Divine Shield damage reduced 1 -> 0.6 cooldown increased
Stone Hide duration 10 -> 8

Other changes:

Added the ability to reset the Corruption effect of a character with Mysterious Egg.
Lots of smaller bug fixes and other balance tweaks to make the game smoother.
Leave a Reply