Chocobo GP details Season 2 with Chip and Kwackeys, Balamb Garden track, more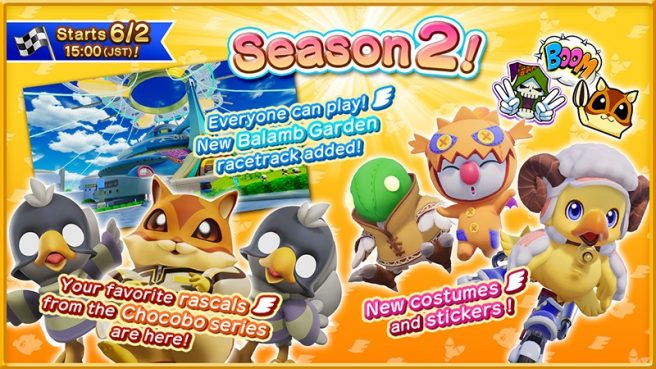 Square Enix has shared new information about Season 2 for Chocobo GP, which features Chip and Kwackeys as new characters, the Balamb Garden track, and more.
Information first started to emerge earlier today thanks to the version 1.1.0 update patch notes that were shared. However, Square Enix has now followed up with details specifically about Season 2 content.
Here's the full rundown:
Chocobo GP mode: Season 2

A large-scale update for Chocobo GP (Ver.1.1.0) is scheduled to launch at 15:00 JST on Tuesday May 31, 2022. In addition, Season 2 of Chocobo GP mode will begin at 15:00 JST on Thursday June 2, 2022. A login bonus of Mythril x800 will be given to all players.

Availability: Start of Season 2 – end of Season 2 (the bonus can only be collected once)

New Characters for Season 2

Chip (VO: Arai Satomi)

Abilities: Sunflower Torpedo

Use the hammer to attack other racers with sunflower seeds. Seeds hit up to two levels harder with each round launched. After the harder hitting rounds are fired, the level resets.

Kwackeys (VO: Kitazawa Riki)

Abilities: Remote Demolition

Set up bombs on the track to explode when you decide. Press the ability button to detonate the bombs. Racers caught in the blast will wipe out. You can still drift, use magicite, and perform Air Tricks while the bombs are set.

Chip from Chocobo's Mysterious Dungeon and the Kwackeys from Final Fantasy Fables: Chocobo's Dungeon will be joining the race in Season 2. Both Chip and the Kwackeys are available as prize level rewards for Prize Pass holders.

Ticket Shop Items and Gil Carry Over

From Season 2 onward, prize level rewards for Prize Pass holders will also be available for purchase at the Gil Shop. In addition, Gil earned during a season can now be carried over into the next season.

– Accordingly, these items may be acquired entirely through offline play.
– Excludes some items such as Mythril, Gil, and Team Stickers.
– In principle, the items available in the Ticket Shop have no limited availability and will remain on sale into the next
season and beyond.
– If a player has already purchased an item from the Ticket Shop when they fulfill the criteria to unlock the same item
as a prize level reward, they will receive Gil instead.

Lite Version Players Can Play in Online Multiplayer Modes

After the Ver.1.1.0 update, Lite version players will be able to play in online multiplayer modes too. Lite version players can join lobbies created by owners of the full game to play together with them.

Racetracks

Balamb Garden from Final Fantasy VIII is coming to the game as a new course!

– Hyperspeed, Technical, Long versions
– This course can be selected in multiplayer, Time Attack, and Custom Race modes after the Ver.1.1.0 update.
– This track will appear in Chocobo GP mode once Season 2 has started.

New Series Race

"The Demon Series" has been added to the Series Races mode.

– This series will be unlocked once the player has achieved third place or better in the Omega Series after the Ver.1.1.0 update.
Check out the gallery below for a closer look at Season 2, Chip and Kwackeys, the Balamb Garden track, and more in Chocobo GP.
The Chocobo GP version 1.1.0 update goes live on May 31, 2022. Season 2 will follow on June 2.
Source: Square Enix PR
Leave a Reply