Citizens Unite! Earth X Space gets a North American physical release, courtesy of Limited Run Games
Posted on November 10, 2021 by Sixto in News, Switch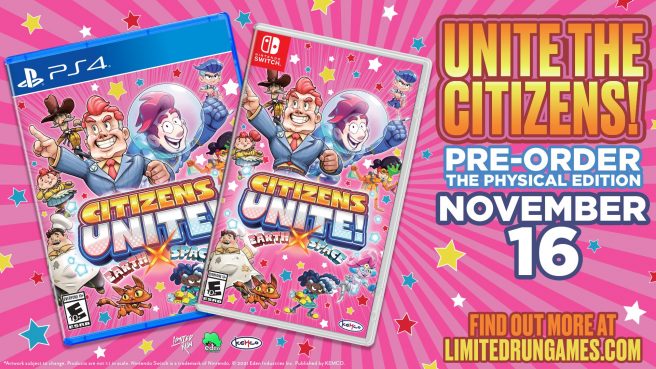 While we are perfectly aware that Citizens Unite! Earth X Space has received a physical release in the past, it has yet to have one in the west. That changes today, with Limited Run Games announcing via Twitter that they'll be producing their own physical version for Switch and PS4.
Here's a rundown on what this two-pack entails.
Unite the Citizens to save the timeline in a hilarious action-packed adventure!
Citizens Unite!: Earth x Space includes "Citizens of Earth", where the rookie Vice President and fellow Citizens investigate the strange mysteries cropping up all over Earth, and "Citizens of Space" where the Earth's new Ambassador embarks on a journey to find the missing Earth with the help of Citizens across the galaxy.

This time the two adventures have united with brand-new elements. Recruit 88 Citizens with unique abilities to save the Earth in both time-periods! Time travel back-and-forth between "Citizens of Earth" and "Citizens of Space", unlocking new content and revealing the true ending!

Unite the Citizens to save the timeline from secretive foes operating behind the scenes!
The four-week pre-order period opens up to all on Tuesday, November 16th. You can pre-order the new physical release here.
Leave a Reply