Class of Heroes 1 & 2: Complete Edition announced for English release in the west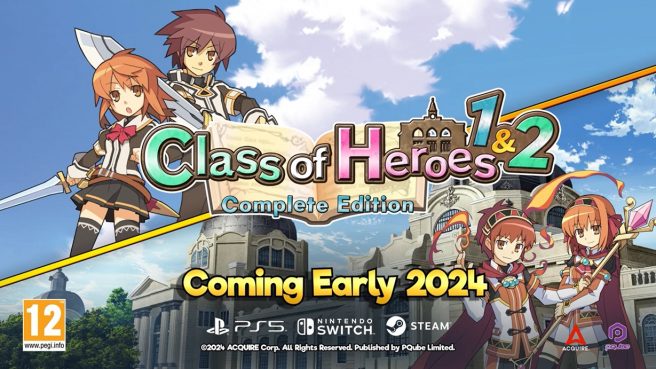 Class of Heroes 1 & 2: Complete Edition is getting a worldwide release on Switch, PQube and Acquire revealed today. A release is scheduled for early 2024.
Both of these games originally released on PSP. Acquire then brought them to Switch as remasters, but only in Japan. PQube is now localizing the two titles and shipping them in a single package.
Here's some information about Class of Heroes Anniversary Edition and Class of Heroes 2G: Remastered Edition:
Class of Heroes Anniversary Edition
Hit JRPG dungeon crawler returns, remastered!

As a first year student at Particus Academy, you must study hard and train even harder. Build up a cohort of students, educate them in the art of evasion and train them in the fundamentals of combat. Select the right harmony of classes, skills, and courses for your students, to give them the perfect edge over the challenging dungeons.

Preparation is key, with hordes of enemies awaiting you around every corner, you can't take them all! A true hero knows when to fight and when to flee!

Key Features

Choose the name, gender, class, alignment and course for your students. Allocate points against various capabilities to decide the strengths of your vanguard and rearguard.
Affinity amongst students is crucial for a team that works well together, especially in sticky situations. Pay attention to different class-alignment affinities, to ensure your party gets the boost it needs.
Strong, weak, and hidden monsters lurk around every turn of the dungeons. Tailor your team's attacks to deal with theirs and be sure to run away when you're unprepared!
With more than 75 dungeons that change every time you enter, you'll never get bored of getting lost! From different terrains to different buildings, fill out your map and track it in your special yearbook.
Broken sword? Shiny coin? From priceless treasures to worthless trash; manage your dungeon haul, sell for some sweet coin or save for another adventure.
From power stones to war hammers, the vast number of recipes alongside the flexible alchemy system allows you to transform items found in the labyrinths, or customize your current weapons attributes.
Class of Heroes 2G: Remastered Edition
A call for brave adventurers awaits at the doors of Crostini Academy. Prepare yourself for a remastered classic dungeon crawler, full of exploration, combat, and endless opportunities. Take advantage of the classes and quests available to build the ultimate, hardy cohort of students!

Build your perfect roster and handpick out your ideal party of 6 students to storm the labyrinths. Mix and match from 10 races and 18 classes, each with their own unique skill sets. Crawl through over 100 labyrinth maps facing over 250 potential enemies. Don't forget to collect artefacts, explore inter-dimensional travel and conquer adversity. You determine the standard you thrive at, take note of recipes for weapons, potions, and any upgrades necessary.

Within this year, groups of excited students will walk through the doors of Crostini Academy to learn the tools of the trade and leave as the next Class of Heroes!

Key Features

Enemies hunt your every forward and backward step within the dungeons. From clusters of small enemies, to terrifying beasts, there is only one way to defeat them all.
The twisting, maze-like paths that form the labyrinth are never quite the same, with different terrains and environments for your students to learn to conquer, experience builds true heroes.
The best battlers are those prepared. With plenty of choice for weaponry, armour, and ability-granting accessories, you're never alone with protection at your side.
This time there's different schools to visit and each school has its own host of interesting characters, and even more interesting courses which your students can take!
With 10 different classes, 18 different courses, 3 different alignments, the possibilities for creating the perfect cast of students is seemingly endless.
Collect recipes and get crafting! The items you find in the labyrinths can help you weather different storms.
View a trailer announcing Class of Heroes 1 & 2: Complete Edition for English release in the west below.
Announcement Trailer
PQube has indicated that the bundle will be sold physically, but both will be available individually digitally.
Leave a Reply