Crash Team Racing Nitro-Fueled dev explains how Crash Nitro Kart tracks were readjusted, talks new elements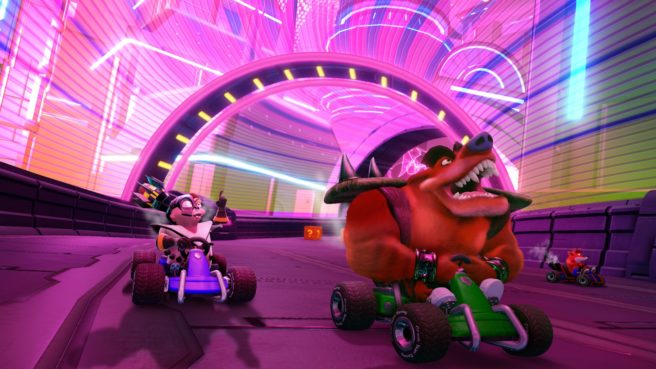 It was recently announced that Crash Team Racing Nitro-Fueled will contain tracks from Crash Nitro Kart, a title that hit the GameCube in 2003. Implementing them wasn't a simple process, however. Beenox creative director Thomas Wilson told USgamer that the length of some courses was readapted.
Wilson explained:
"The biggest challenge was for [Crash Nitro Kart]. We readapted the length of some of the tracks. A typical lap for [Crash Team Racing] could be 30-40 seconds, and some of the tracks on CNK were all the way to six minutes. We wanted to complement the original CTR material by readapting the CNK tracks a little bit more."
The adjustments didn't stop there. Beenox removed the anti-gravity sections from Crash Nitro Kart while also adjusting the size and width of each track. Ultimately, the goal was to have the Crash Nitro Kart content fit in with Crash Team Racing's mechanics.
All in all, Crash Team Racing Nitro-Fueled has 31 tracks. There are also 15 playable characters, and Nitros Oxide can be unlocked – who was a boss in the original game.
USgamer also reports on the following additions for Crash Team Racing Nitro-Fueled:
– New series of videos showing players how to power slide and use weapons
– New boost meter and Training Wheels
– Both are aimed at showing players the timing of power slide boosts
– The meter fills as you slide, letting you know how big a boost you'll see when you hit the button
– With boosting, the longer you waited, the larger you boost
– The meter lets you see that visually, rather than guessing
– Training Wheels add another visual signifier with your wheels heating up, to teach you the specific slide timing
Leave a Reply