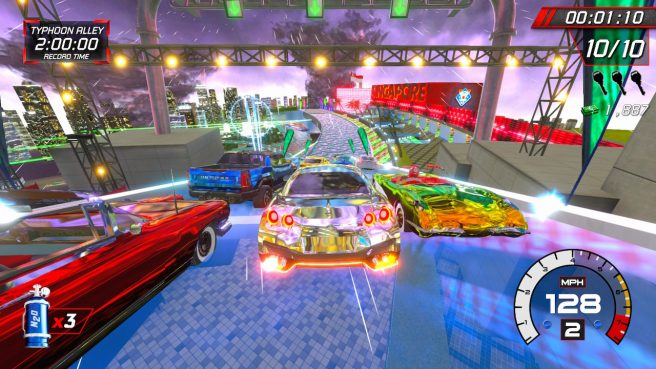 Raw Thrills' arcade racer Cruis'n Blast is finally here on Switch, and we now have pure gameplay showing off the game.
Here's some additional information about the title:
Cruis'n Blast was developed and released for the arcade by Raw Thrills in 2017 as the fourth installment in the iconic, beloved Cruis'nTM racing series, originally created by legendary game designer and Raw Thrills CEO Eugene Jarvis. Cruis'n Blast was preceded in the arcade and on Nintendo 64 by Cruis'n USATM (1994), Cruis'n WorldTM (1996) and Cruis'n ExoticaTM (1999).

Cruis'n Blast for Nintendo Switch features a total of 29 thrilling tracks, including all five fan- favorite tracks from the arcade version of the game (Death Valley, London, Madagascar, Rio de Janeiro and Singapore), as well as 23 upgradeable vehicles – from licensed supercars to unicorns. The game supports up to four players on the same console or separate consoles via local play.
Take a look at the new Cruis'n Blast Switch gameplay in the video below.
Cruis'n Blast is now available on Switch as both a physical and digital release with support for English, Japanese, French, German, Italian, Korean, Dutch, Chinese, and Spanish language options. You can read our review of the game here. Additionally, we have an interview with Raw Thrills here.
Leave a Reply