Cult of the Lamb trailer highlights combat, exploration, and the Four Bishops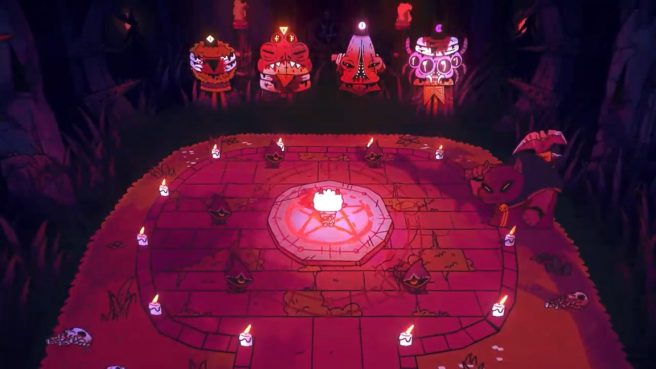 Devolver Digital and Massive Monster issued another trailer for Cult of the Lamb that covers the game's combat, exploration, and Four Bishops.
Players will explore a randomly generated world, come across different weapons like a sword, axe, and dagger, and use tarot cards that grant abilities. It's also possible to bring home resources and followers to grow your community. Eventually you'll take on the Four Bishops: Leshy, Heket, Kalamar, and Shamura.
Here's additional information about the game:
Start your own cult in a land of false prophets, venturing out into diverse and mysterious regions to build a loyal community of woodland worshippers and spread your Word to become the one true cult.

BUILD YOUR FLOCK
Collect and use resources to build new structures, perform dark rituals to appease the gods, and give sermons to reinforce the faith of your flock.

DESTROY THE NON-BELIEVERS
Explore a sprawling, randomly generated world, fight off hordes of enemies and defeat rival cult leaders in order to absorb their power and assert your cult's dominance.

SPREAD YOUR WORD
Train your flock and embark on a quest to explore and discover the secrets of five mysterious regions. Cleanse the non-believers, spread enlightenment and perform mystical rituals on the journey to become the mighty lamb god.
View the Cult of the Lamb trailer below for a closer look at combat, exploration, and the Four Bishops.
Cult of the Lamb is planned for August 11, 2022 on Switch.
Leave a Reply