CyberConnect2 on returning to the Little Tail Bronx series and the decade wait in between titles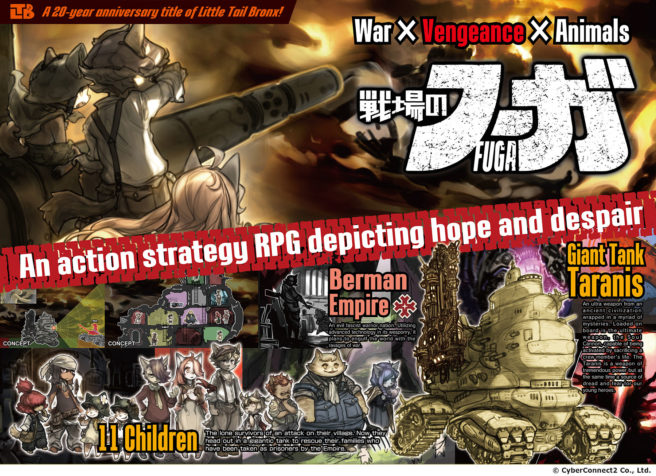 CyberConnect2 first started the Little Tail Bronx series with Tail Concerto on the PlayStation back in 1998. Then in 2010, Solatorobo: Red the Hunter came to DS. Fuga on the Battlefield will see the franchise return once again next summer.
Notice a pattern here? There's about a decade long wait in between titles. In an interview with Anime News Network, CyberConnect2 CEO Hiroshi Matsuyama explained why it takes so long for new games to be released, stating:
I believe one of the selling points for the Little Tail Bronx world is that it's very centered the beast-human characters; another is that we release one every 10 years or so, and it isn't that we're selling it to the general public, it's mostly that the audience for it, the players, they always come back for more. So that's why we release one every 10 years, to answer our fans' prayers, so to speak. But they're also able to enjoy a new world and a new concept every once and a while.

The reason we have the 10-year wait in between each project is because we do know that if we were to release them more frequently, it won't sell as well. So our strategy is, in between each project, we build up the community of fans who appreciate beast humans, more people who would enjoy these games. But before that community gets bigger, we can't release those games more frequently.
Matsuyama also spoke about Fuga on the Battlefield in general. It'll be different from past Little Tail Bronx games in that it's "a simulation RPG instead of an action game." Matsuyama added: "Basically we want to create a world where players can enjoy the story from beginning to end, and also enjoy the world as a whole too, which is why we diverted from the original."
Finally, when asked why the tone seems darker this time around, Matsuyama noted:
"It's true, it might seem a bit darker than the other projects. We're trying to create a world where it's a war-torn universe, but we have these children who are setting out on adventures to save their parents. They try to find their way around the world, and though they start out depressed due to the war, they start to come together as a family, and they find a way to a better, brighter life. So yes, it's dark in the beginning, but in the end we wanted to depict a bright world."
Leave a Reply