Death Squared confirmed for Switch, will have exclusive levels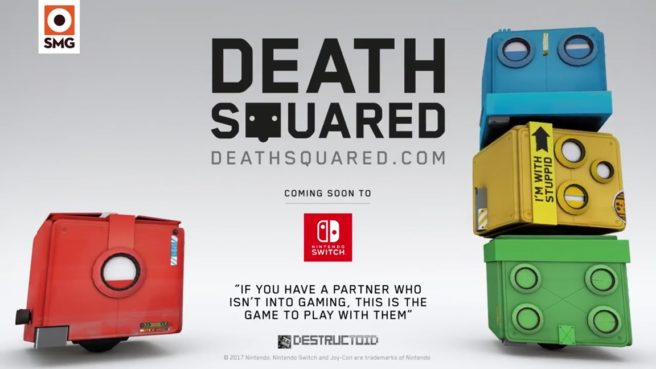 SMG Studio spoke about wanting to port over Death Squared to Switch earlier this year. That's been made official, as the team officially announced that its game is coming to Nintendo's console.
Death Squared is a puzzle co-op title that tasks players with reaching the goal in various levels. On Switch, SMG Studio will be packing in brand new stages.
Here's an overview:
"Grab a Joy-Con and lead the game's cuboid comrades through treacherous test chambers. With up to four players, guide the group to safety in increasingly-complex puzzles where one false step can trigger traps capable of sending the whole team to the big scrapyard in the sky.

To escape each new challenge, every robot must be escorted to color-coded destinations. Along the way, players will encounter hidden hazards, including spikes, lasers and other deadly devices, that can send the whole squad back to square one. However, with a little help from instant respawns, parties can put newly-gained knowledge of these obstacles to quick use.

The key to success in Death Squared lies in communication and cooperation. Players will learn to work together and utilize trial and error to overcome new and exciting challenges."
View a trailer for Death Squared below. It should arrive later in Q2.
Source: SMG Studio PR
Leave a Reply